Sutton United's Reserve Goalkeeper Wayne Shaw Has Another Bizarre Job Offer
Sutton United's reserve goalkeeper Wayne Shaw has become a huge fans favourite in recent weeks as part of Sutton's FA Cup run.
Sutton were knocked out of the competition in a glamorous home tie with Arsenal last night, with the Gunners advancing to the quarter finals through goals from Lucas Perez and Theo Walcott.
But he became a viral sensation when with under 10 minutes of the game remaining and with all three substitutions made, tucked into what many thought was a pie, on the substitutes bench.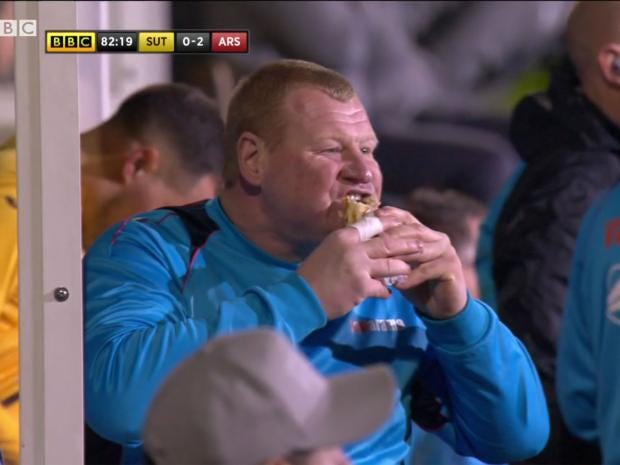 wayne-shaw.jpg

He's since come out and stated that he was in fact sinking his teeth into a pasty in what is undoubtedly the biggest plot twist in history.
Great journey well done to all the management players and staff go again Saturday proud to be involved @suttonunited it was a pasty not pie.
- Wayne Shaw (@wayneshaw70) February 21, 2017
At first glance, it looked like a hilarious 'magic of the cup' moment but on further 'investigation' it was shown to be a cynical piece of advertising.
Sun Bets had sponsored Sutton for the one off game and it came to light that the company had offered odds of 8/1 that Shaw would eat a pie on the bench during the game.
Commenting on the pie fiasco after the game, he said:
"A few of the lads said to me earlier on what is going on with the 8-1 [bet] about eating a pie. I said I don't know, I have eaten nothing all day. So I might give it a go later on.
"As I say what is that, Sun Bet had us at 8-1 to eat a pie. I thought I would give them a bit of banter and do it. All the subs were on and we were 2-0 down.
"I went and got it at half time from the kitchen, I had it all prepared and ready to go. It was meat and potato."
The goalie isn't short of offers, though.
The buzz surrounding him was so big that he was a guest on Good Morning Britain today and everyone's favourite bloke Piers Morgan tried to tap him up for Arsenal.
However, he's also received an offer from supermarket chain Morrisons, who want to recruit him as an official 'Pie Taster'. They were impressed with the way he got stuck into his snack last night and think he's the perfect man for the role.
A year's supply of pies is surely an offer that will tempt Shaw, who was spotted hoovering the dugouts and in the Sutton bar at half-time last night.
As quoted by The Independent, Morrisons' Chief Pie Buyer Tessa Callaghan said:
"We're always looking for the best talent to taste our pies and make sure they hit the back of the net.
"Wayne's performance last night sets him apart as one of the country's most famous pie connoisseurs.
"We were really impressed by his commitment to pie eating, and we understand that a good pie is the best way to warm up for any occasion, even if it is the biggest night of your football career."
A crazy couple of days for Wayne Shaw...
Topics: Sutton United, Wayne Shaw, Arsenal