Football Manager is a game with the scope and potential to drain thousands of hours of your life in the blink of an eye. In all honesty, the last few days have flown by. I can see scouting reports, contract negotiations, and stunning screamers from Danny Drinkwater in my dreams now. What if you want to sign up the best young stars for the future of FM though? Football Manager has always been all about wonderkids, and FM2022 is no different.
So, here are the best wonderkids for each position, with a little added info on the ones I've selected as top prospects. Remember, you can always generate your own superstars with your club's youth system, and players will develop differently depending on what their situation is. Are you playing them? How are your training facilities? Have you accidentally allowed them to put in a minimum fee release clause in their contract so as soon as they get a sniff of their potential, they're snapped up by PSG? Well, keep these in mind as you peruse the best Football Manager 2022 wonderkids.
I won't be mentioning ridiculously expensive players from huge clubs either - if you can afford £100m for Mbappe or Haaland then the world is your oyster. This is for gems you might not have seen on highlight reels just yet. One other thing: if you want to guarantee these players are in your database, their leagues will need to be turned on either at the start of your saves or between seasons!
Other articles in this series:
Goalkeepers
Maarten Vandevoordt
Club: Genk
Age: 19
Transfer Value: £12m-15m
Genk's Vandevoordt is the prime goalkeeper to sign in FM2022 if you want a young player with bags of potential. It takes a tad longer for keepers to upgrade of course, but with a bit of patience, Vandevoordt can be your club's stalwart for well over a decade. Train him up as a sweeper-keeper if you can - his footwork and ball skills are already great and can be boosted even more to start attacks from the back.
Rome-Jayden Owusu-Oduro
Club: AZ
Age: 17
Transfer Value: £350k-£3.4m
Even more of a project, Owusu-Oduro of Eredivisie club AZ is just 17 years of age. He's raw, but with time and effort, he can reach the heady heights of the Premier League or other top-tier divisions. His youth makes him a lot cheaper to buy than other young keepers too.
Diogo Costa
Club: FC Porto
Age: 21
Transfer Value: £9.6m-14m
Diogo Costa is a lot more ready to step right into the limelight. Chuck an offer at Porto on day 1 and they'll accept, and at 21 years of age Costa still has a lot more room to grow. Chuck him directly into your side if you can afford the fee, and watch him fly.
More Wonderkid Goalkeepers
Iván Martínez
Gavin Bazunu
Coniah Boyce-Clarke
Alejandro ItuDRe
André Gomes
James Trafford
Giorgi Mamardashvili
Francisco Meixedo
Lucão
Leandro Mathias
Defenders
Renan
Club: SEP
Position: DC/DL
Age: 19
Transfer Value: £6.6m-£9.6m
Versatility is key in FM2022, and it's been great to see the improvements on how players can be more flexible with the positions they play. Renan is naturally gifted at both left-back and centre-back, so if you have a bit of cash to grab him from the Brazilian league, you'll be getting a hard-tackling defender with bags of offensive ability.
Wisdom Amey
Club: Bologna
Position: DC/DR
Age: 15
Transfer Value: £10m-£15m
He's only 15 and will set you back a pretty big wedge of cash, but just think of the offers you'll be turning down just a few short years into his development. Man City will be throwing wads of cash at your door as you develop an amazing defender, both out wide and in the middle.
Kaiky
Club: SAN
Position: DC
Age: 17
Transfer Value: £350k-£3.5m
Kaiky represents really good value for a wonderkid-type transaction. He's available for a pretty low cost and grows to be one of the top DCs in the league with a bit of patience. He's not half bad on the ball either.
Julián Aude
Club: Lanús
Position: DL/LWB
Age: 18
Transfer Value: £5.2m-£6.2m
With fullbacks and wingbacks dominating the real-life football tactics meta, it makes sense for Football Manager to replicate this realism. Aude is a classic attacking left-back, with the potential to be one of the best in the game thanks to his great physical and mental attributes you can train to an even higher level.
George Bello
Club: Atlanta United
Position: DL/LWB
Age: 19
Transfer Value: £600k-£8.2m
This American fullback has a contract nearing its expiry date, so if you're feeling extra cheeky you could go for the free transfer. This is risky though, and you can just as easily get an absolute steal by sliding into Atlanta United's DMs and grabbing yourself a fantastic player.
Calegari
Club: FLU
Position: DR/RWB/DM
Age: 19
Transfer Value: £10.5m-£15.5m
Another Brazilian wonderkid? Yeah, this one is really good too. He's a bit pricy for his current ability, but his versatility and flexibility to slot into the defensive midfield role makes him well worth the price.
Devyne Rensch
Club: Ajax
Position: DR/RWB/DC/DM/DL
Age: 18
Transfer Value: £12.5m-£15m
Oh, you want flexibility? Look at all the positions Devyne Rensch can play. This Ajax wonderkid is a natural all through the back line and is extremely worth picking up if you can afford the price. He'll be a Premier League superstar in no time.
More Wonderkid Defenders
David De la Víbora
Benoît Badiashile
Tanguy Nianzou
Andrea CaDRoni
Gonçalo Esteves
Vanderson
Jurriën Timber
Riccardo Calafiori
Alejandro Francés
Josha Vagnoman
Defensive & Central Midfielders
Rafael Luis
Club: SDL
Position: DM/MC
Age: 16
Transfer Value: £150k-£1.5m
The 'Model Citizen' personality trait can't be overstated in its importance. In Football Manager, every variable matters, and having the Model Citizen personality means your hidden statistics are extremely high. Rafael Luis is going to be a superstar.
Aster Vranckx
Club: VFL Wolfsburg
Position: DM/MC/AMC
Age: 18
Transfer Value: £5.2m-£8m
Aster Vranckx can develop fantastically as the centrepiece of your team. Working as a ball winner or a more attacking threat depending on how you deploy him, he'll become a real gem as your squad's pivot.
Gabriël Misehouy
Club: Ajax
Position: MC/AMC
Age: 15
Transfer Value: £9m-£11.5m
At just 15, Gabriël Misehouy is definitely a project to work on, but if you're a big enough deal to spend about 10 million on a youngster he'll pay dividends later on in your save. Equally adept playmaking and getting into the box, he'll flourish a huge amount if you train him right.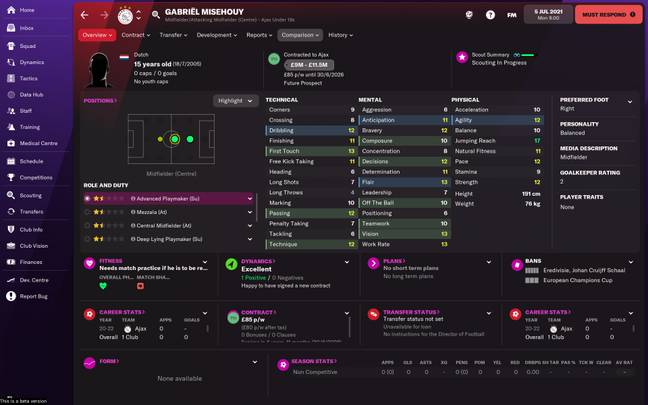 Sandry
Club: SAN
Position: MC
Age: 18
Transfer Value: £6.8m-£8.2m
Sandry is injured at the start of a save so you might not be able to grab him immediately, but once those ligaments are repaired you should take steps to get him on your team ASAP - he's just such a great all-rounder.
Samuele Ricci
Club: Empoli
Position: DM/MC
Age: 19
Transfer Value: £14.5m-£21m
Samuele Ricci is a classic playmaking midfielder. Could he be the new Pirlo under your tutelage? He's pretty pricy, but his existing stats make him an easy sell for any squad. He's so balanced, and the perfect player to build a team around.
Gabriel Menino
Club: SEP
Position: DM/MC/DR/RWB/MR
Age: 20
Transfer Value: £7.2m-£8.8m
Now for another versatile player to fill in the gaps in your squad. As well as being a wonderkid and star of the future, Gabriel Menino can play all over the place, including in the Complete Wing Back role at DR. What a treat.
Burak İnce
Club: Altınordu
Position: AMC/MC
Age: 17
Transfer Value: £1.3m-£2.7m
With excellent technique at just 17 years of age, Burak İnce is just fantastic for his price. Get in there early and he'll be a goal and assist machine for a whole lot of his career. And hey, if you can't keep him he'll generate a really sound profit.
Hugo Félix
Club: SDL
Position: AMC/MC
Age: 17
Transfer Value: £750k-£1.6m
Hugo Félix is a slightly lower-cost option than İnce but offers just as much potential and the chance to really build your squad around what he'll become. Poor Benfica. You really do keep buying up their faves.
Facundo Farías
Club: SDL
Position: AMC/AML/ST
Age: 18
Transfer Value: £900k-£4.6m
Facundo Farías is a really solid potential option for your team's future build, with a low-ish price and the potential to grow into a star. You can even train hard and turn him into a full-on striker if you really fancy a challenge.
More Wonderkid Midfielders
Dário Essugo
Angelo Stiller
Ruslan Litvinov
Ivan Ilić
Ísak Bergmann Jóhannesson
Gabriël Misehouy
Rayan Cherki
Thiago Almada
Chuki
Emanuel Vignato
Wingers and Strikers
Matheus Gonçalves
Club: FLA
Position: AMR
Age: 15
Transfer Value: £1.1m-£4.9m
At just 15, Gonçalves is yet another unbelievably talented Brazilian wonderkid. His penchant for flair will hopefully show off the brand new FM2022 match animations, and if you need any more convincing, he's pretty well-priced too.
Antonio Nusa
Club: FLA
Position: AMR/AML/MR/ML
Age: 16
Transfer Value: £7.6m-£9.4m
Nusa is a jack of all trades, and he'll become a master of those trades if you play your cards right. Adept on either wing, he's got bags of flair. Once you sort out that rusty finishing, he could become your primary goalscorer.
Jayden Addai
Club: AZ
Position: AMR/AML
Age: 15
Transfer Value: £4.4m-£6.6m
Another super-young winger, you won't be able to have Jayden Addai actually play for you for a couple of years. That's okay though - he can continue his development at AZ and hopefully come to your squad with experience in the first team, some upgraded technical stats, and a step closer to his potential.
David Kalokoh
Club: Ajax
Position: AML/AMR/AMC/ST
Age: 16
Transfer Value: £7.6m-£11.5m
He can play all along the front line and be extremely dangerous doing so. If the price puts you off, have a look on your own save - he might well have dropped! That's what happened for me which allowed a real deal.
Lorenzo Lucca
Club: Pisa
Position: ST
Age: 20
Transfer Value: £240k-£5.6m
Lorenzo Lucca is over 2m tall! He has 17 heading! 17 jumping reach! If you play the kind of football that'll help with and need the perfect target forward to build around, you've found him.
Gonçalo Ramos
Club: SLB
Position: ST
Age: 20
Transfer Value: £11m-£16m
Ramos is 20 years of age, so is therefore further into his development than some other players on this list. This makes him pretty pricy. It also makes him ready for action right now in the right setup. Solid stats across the board make Ramos a really good choice.
Ransford-Yeboah Königsdörffer
Club: Dynamo Dresden
Position: ST/AMR
Age: 19
Transfer Value: £170k-£5.2m
Königsdörffer can be poached from the German second tier with surprising ease if you're a club with the sort of pull a player at that level will find attractive. He's got it all really - technical, physical, and mental attributes.
Jason van Duiven
Club: PSV
Position: ST
Age: 16
Transfer Value: £950k-£9m
Van Duiven is a raw talent. He won't come into your team and immediately start banging them in - just look at his finishing stat. Give him time and space to grow though, and you're on course for a genuine delight in any role up top.
Eddie Salcedo
Club: Inter
Position: ST/AMC/AML
Age: 19
Transfer Value: £8.8m-£10.5m
Eddie is great all-around at just 19. Although he doesn't excel in any ridiculous way like some other wonderkids on this list, he has the potential to become a classic number 9 in the right system. Just keep tabs on his development and give him game time and it'll all go great.
More Wonderkid Forwards
Francisco Conceição
Khvicha Kvaratskhelia
Alan Velasco
Ângelo
Sávio
Matteo Cancellieri
Karim Adeyemi
Matías Arezo
Roberto Piccoli
Sebastiano Esposito