Some clubs just don't have the transfer budget to burn. That's understandable. But that doesn't mean they shouldn't have signings to make and improve their team. Free agents will show up every season when contracts expire, but if you're speedy you'll be able to grab yourself some absolute gems right at the start of your FIFA 22 career mode.
Here are the best free agents in FIFA 22 Career Mode. You aren't going to have quite as many superstars as a list of the best strikers or anything, but with a smaller club, or one that's looking to be on the rise, this is the place to look. A small note: the players currently have clubs on the screenshots provided, but that's so I could get the player scouted and show their actual stats. With this handy guide, you won't have to bother with that and snap the player up before AFC Bournemouth get their mitts on them!
Best free agents in FIFA 22
Charis Chatzigavriel
Age: 17
Position: GK
Current Overall: 58
Potential Overall: 84
Value: £650k
Charis Chatzigavriel is a project player. At 58 overall, he won't be doing a thing against a striker with decent finishing. There's a reason he made my list of the best wonderkids in FIFA 22. That low rating will start rising quickly, especially if you're working hard to improve your player development. For a transfer fee of zero and a low wage, it's a bit of a no-lose scenario, especially for a smaller club that will be able to give Chatzigavriel game time sooner.
Arsen Zakharyan
Age: 18
Position: CAM
Current Overall: 70
Potential Overall: 84
Value: £3.2m
There are a lot of Russian free agents on this list. The first is a fantastic signing if you can grab him. Arsen Zakharyan has a great deal of potential and could become a lynchpin of your career mode at the CAM position. Once you level up his stats, his passing and technical ability can make him a real delight at the top of the pitch, playmaking, chance-creating, and goalscoring in equal measure.
Matvey Safonov
Age: 21
Position: GK
Current Overall: 72
Potential Overall: 82
Value: £3.9m
Another young goalkeeper, Matvey Safonov is a bit more playable if you need someone to come into a lower-league side for an immediate impact. If you do manage to sign him up and get him on the pitch, he'll be a really solid goalkeeper for the future of your club, particularly for those of you who start at Championship level or below.
András Schäfer
Age: 19
Position: CM
Current Overall: 69
Potential Overall: 81
Value: £2.7m
A really decent player for middling sides to grab on a free, András Schäfer is going to become a really good Premier League-level midfielder if you play your cards right. His impressive pace means he makes a great box-to-box player and depending on how you train him, you'll be able to mould Schäfer into whatever kind of player you want. I'd recommend pushing him further up the pitch - he's a really good dribbler and can be made into a sound playmaker if you train up his passing.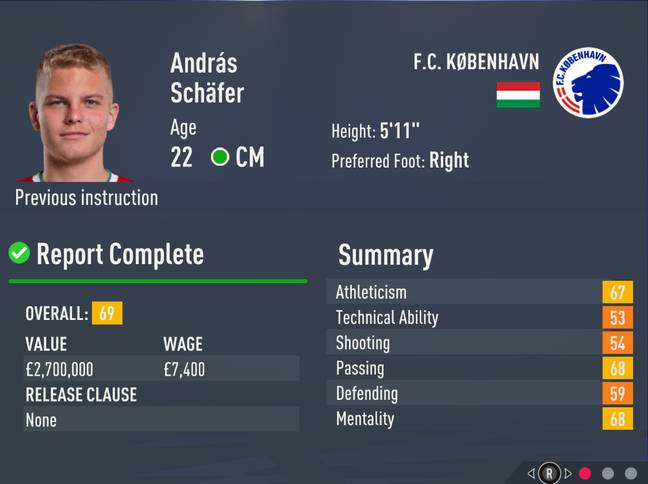 Sebastian Szymański
Age: 22
Position: CAM
Current Overall: 73
Potential Overall: 81
Value: £6m
This takes me back. I had Sebastian Szymański in my Football Manager squad for a while last year. He really injected a level of urgency and pace into the team, pushing us up to the next level and improving to make us a Premier League-level side. Well, he can do exactly that in FIFA 22 too! The polish attacking midfielder is a speedster with sound passing and great dribbling stats which can only improve over time. Szymański is a great pickup for ambitious clubs looking for someone to take their team and elevate it.
Marko Stamenic
Age: 19
Position: CM
Current Overall: 63
Potential Overall: 80
Value: £1.1m
This New Zealand central midfielder is far from being a world beater. Like Chatzigavriel, he's a bit more of an investment into your team rather than an instant superstar. He's a good physical midfielder who I'd recommend training into a defensive stalwart in your squad - he'll end up being a solid tackler and distributer as the pivot to your team. Keep Stamenic in and around your squad to keep him improving and you won't regret it.
Denis Makarov
Age: 23
Position: RM
Current Overall: 70
Potential Overall: 78
Value: £3m
Denis Makarov is an easy signing for clubs in the Championship, or around that level. As either a squad option or potentially a starting player, he isn't the fastest on the wing but can be trained up to be a strong wide playmaker. He's left-footed too, so playing him on the right and cutting inside is a great source for potential goals. He only has 2-star weak foot, but with some good ball control training, he'll be able to get those shots away.
Daniil Fomin
Age: 24
Position: CDM
Current Overall: 72
Potential Overall: 77
Value: £2.8m
Daniil Fomin of the Russian squad could be a big acquisition for your club. By that, I mean he's 6' 2". He's not just a lanky wall though! He's a surprisingly versatile defensive midfielder, with ready-made stats in shooting and passing making him a solid choice as a deep-lying playmaker. Great feet for a big lad.
Ilya Samoshnikov
Age: 23
Position: LB
Current Overall: 70
Potential Overall: 76
Value: £2m
A good left-back is hard to find. Thankfully, you've found one, and a speedy one at that. Samoshnikov can absolutely race up and down the pitch, offering attacking potential and the ability to catch up with pacy wingers. His crossing stat is pretty dire at the moment, but with time and training, he can provide a really good option for many teams.
Matthew Garbett
Age: 19
Position: CAM
Current Overall: 61
Potential Overall: 76
Value: £675k
Another New Zealander! What a delight. Potential ability of 76 sounds pretty average, but as a player who starts at 61, that's an absolutely massive improvement. Matthew Garbett can be a stalwart in your lineup all the way from League 2 to the Premier League if your club's trajectory matches his, and even if not, you'll make a tidy profit at the end of his career at your team. He's a fairly speedy attacking midfielder with solid ball control which can be improved to make him a really decent player in the long run.
Other Great FIFA 22 Career Mode Free Agents
Michael Woud
Vyacheslav Karavaev
Daler Kuzyaev
Elijah Just
Laszlo Kleinheisler
Ales Mateju
Milos Degenek
Fran Karacic
Artem Dovbyk
Nando Pijnaker