An Emotional Rey Mysterio Breaks Down In Tears Talking About Eddie Guerrero On 20th Anniversary Show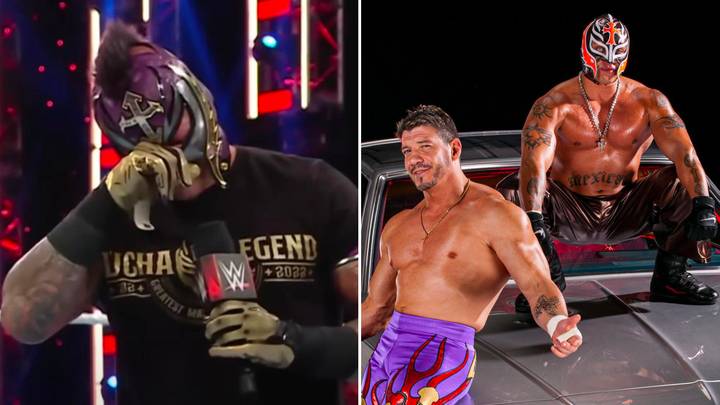 WWE legend Rey Mysterio was visibly emotional on Monday Night RAW after mentioning Eddie Guerrero in his 20th anniversary speech.
Monday marked the 20th anniversary of Mysterio's debut in WWE and he was given an open mic to close out the 'Month of Mysterio' celebrations.
What followed was a passionate promo and the 47-year-old knew exactly what he wanted to talk about.
After reeling off names such as Batista, Kurt Angle and Edge, Mysterio looked to the sky and gave his shoulders a shimmy.
"We cannot forget about the late, great Eddie Guerrero!", he belted out as the crowd began to chant his name.
Mysterio continued: "Eddie, I love you man and I miss you every damn day! I wouldn't be here without you, and I know you're always watching over me. Thank you, Eddie!"
In the ring was his son, Dominik Mysterio, who was famously in the middle of a storyline custody battle between Mysterio and Guerrero in 2005.
The pair would have a ladder match at SummerSlam for the custody of Dominik, which Mysterio won.
Guerrero is a former WWE Champion and regarded as one of the greatest wrestlers to ever live.
Mysterio is still an active member of the WWE roster and later on in the show, defeated Finn Balor and Damian Priest alongside Dominik.
During the match, he pulled off Guerrero's fake chair shot stunt which sent the crowd wild.
Elsewhere in his promo, Mysterio thanked fans for supporting him for two decades despite his lack of size in the land of the giants.
"Thank you for accepting me," he said. "For rolling with the Mysterios. And for 20 of the dopest, most awesome years."
'The Master of the 619' will team with Dominik to face Balor and Priest once again at SummerSlam on Saturday night.