Gary Neville's 2019 Manchester United And Mo Salah Prediction Has Not Aged Well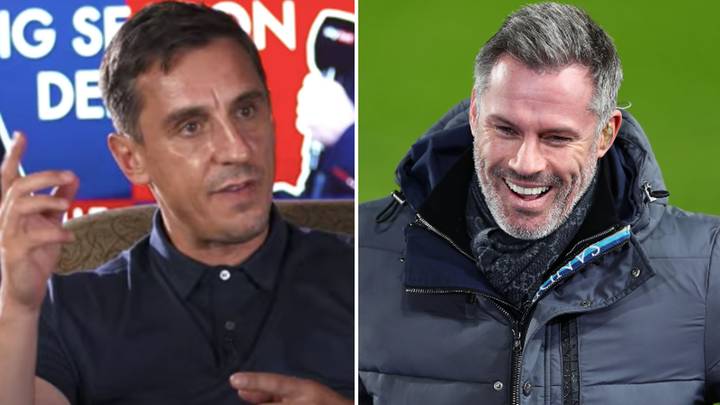 At the start of the 2019/20 campaign, Neville gave his predictions as part of Sky Bet's big season debate alongside Jamie Carragher and fan channel members.
Conversation turned to his former club United and Neville made the claim that the Red Devils would secure a 21st League title before Liverpool won their first.
At the time, Liverpool had just won the Champions League and narrowly missed on the league title after accruing 97 points but finishing one behind winners Manchester City.
Neville said: "Eventually they will stumble upon the right recruitment system, the right recruitment people, they'll get a great manager – hopefully that's Ole – and they'll start to win again. That's going to happen.
"I can guarantee you as clear as day, Manchester United will win again. They'll probably win the league before Liverpool, in my opinion. And that's not being disrespectful, they'll probably win the league before Liverpool."
This video of Gary Neville's prediction from August 2019 will never not be absolutely glorious to watch.

'Man Utd will probably win the league before Liverpool and Salah will leave in the next 12 months.' 😂

pic.twitter.com/yUsFE4JVRs

— Mick Moran (@Mick_Moran_) February 5, 2022
However, Neville proved to be way off the mark. Liverpool cruised to a Premier League title win under Jurgen Klopp in 2019/20 when they finished 18 points ahead of City.
United, who lost the Europa League final on penalties to Villarreal last term, have gone five years without a trophy.
And Neville has also been very wrong as he was adamant Salah, Liverpool's talisman, would be leaving.
After Carragher said United wouldn't win another European Cup before Liverpool, Neville added: "Maybe not, but I think they'll win a league before Liverpool. They're more ripe, they're closer than you think and it's not as bad as you think. That's always the way it is.
"And Liverpool, Salah's going to leave in the next 12 months, I can see it already. He [Carragher] knows, he won't say it. I can see it, you can feel it, you can smell it."
Just less than three years on, Salah is still banging in the goals for the Anfield club, who are desperate to tie him down to a new contract.
"I want to stay, but it's not in my hands, it's in their hands," Salah told GQ magazine.
"They know what I want. I'm not asking for crazy stuff."