Watch crying 15-year-old Mike Tyson get calmed down by Teddy Atlas in super-rare footage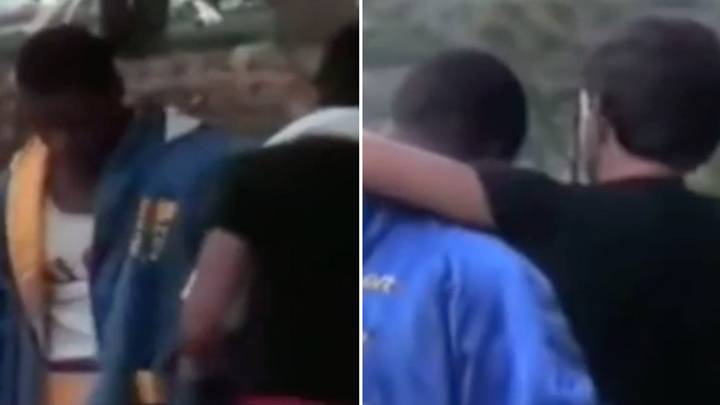 In super rare footage a 15-year-old Mike Tyson can be seen being consoled by legendary trainer Teddy Atlas just moments before demolishing his opponent.
The recently revealed material shows a teenage Iron Mike in tears just before a fight as his trainer Teddy looks to help him regain his confidence.
Just moments later the former heavyweight champion can be seen bouncing into the ring and winning his bout within 40 seconds.
The footage takes place ahead of the 1982 national Junior Olympics in Denver as Tyson attempts to overcome his nerves while already dressed in his robes.
The boxing legend can be heard sobbing as Atlas puts his arm around him.
Atlas can be heard saying: "Just relax, Michael, relax.
"All it is is another boxing match, you've done it already 20 times.
"You've done it in the gym with better fighters than you're gonna fight here.
"It's always hard, but you always have confidence because it always comes off on your side.
"You're always better than everybody you get in there with, right?
"Alright, let's go get ready for a fight, come on."
The footage then cuts to Tyson unloading on opponent Kelton Brown as his corner quickly throws in the towel.
In an interview accompanying the footage Atlas details exactly how to handle an athlete such as Mike.
He says: "Maybe God said 'well I'll give him a strong body and make him learn how to be strong in other ways on his own'.
"He's a weak personality in that he's easily misled.
"He needs love, he needs a boost, he needs confidence.
"He needs someone to be there for him."
Just four years after the events in the video, he became the youngest-ever world heavyweight champion by beating Trevor Berbick at the age of 20.
It's a record that still stands today.
Tyson is known to have had a troubled childhood, being brought up by a single mother who passed away when he was just 16.
By the time he was 13 he had been arrested 38 times and had spent time in juvenile detention.
It was there his boxing talent was noticed, and soon after he was introduced to Atlas and fellow trainer Kevin Rooney.