Do you always hook or slice your shots on the golf course? Are you tired of spending hours looking for your lost ball? Polara Golf may have the answer to all your problems.

The company have developed advanced technology that enables a golf ball to be substantially straighter on slice and hook shots, using shallow and deep dimples to lower lift and reduce drag while enhancing weight distribution.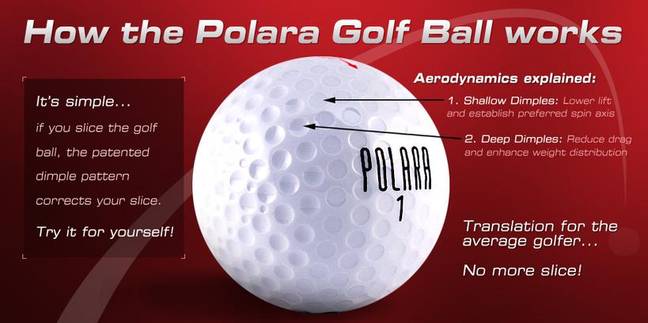 So how does it work? From the tee, point the arrow on the ball directly at your target, or line it up with the center of the fairway.
If you're playing from the fairway, play the ball "as it lies" or re-adjust the ball orientation so the arrow again points at your target.

Our Straight Self Correcting Golf Balls fly so straight because they exhibit less aerodynamic lift than other golf balls.
Polara claim that if you slice a golf ball 100 feet, the exact same swing with our anti-slice golf ball would slice about 25 ft., leaving you in the fairway instead of the rough.
PGA professional and YouTuber Rick Shiels has since tested the above with remarkable results.

Shiels, who used a regular Taylormade TP5 ball beforehand to show the direction of his hooked shot, clearly attempts to slice his tee shot right.
But the ball appears to correct the angle and goes straight down the fairway.
This is perfect for golfers who always find the rough, or worse lose their ball when playing a round with mates.
It must be noted that these balls are designated for recreational golfers; not for tournament play.

Do you know someone who needs this golf ball?
Let them know in the comments.