Trent Alexander-Arnold got cooked by two different players during Champions League elimination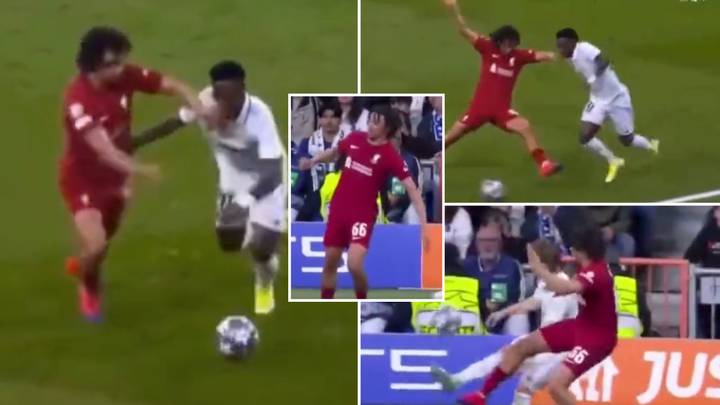 Trent Alexander-Arnold came in for criticism for his performance, as Liverpool were knocked out of the Champions League, twice being destroyed by different opponents.
Of course, the Premier League side faced an almost impossible task at the Bernabeu, heading to face the European champions when already 5-2 down from the first leg, the visitors two goal lead from their home tie seeming so long ago.
Whilst losing to the European champions is no disgrace, the manner in which Liverpool failed to mount any sort of a comeback left much to be desired.
There was criticism all round but much of it was aimed at Alexander-Arnold, who failed to live with Vinicius Junior throughout the tie.
However, it wasn't just the Brazilian who had his way with the right-back, as plenty of people also noted the moment 37-year-old Luka Modric made him look very silly.
Even Jamie Carragher, who has spent a lot of time defending the Liverpool star, questioned his future in big games, telling CBS, "If Liverpool are trying to qualify for the Champions League on a yearly basis, I am not sure Trent is your man at right back."
"Vinicius Junior has ragdolled Trent Alexander-Arnold for about 72 minutes," wrote Norwegian journalist Jonas Adnan Giaever.
"It's disrespectful to even compare Trent to Reece James these days. Reece is a level above," argued a Chelsea fan.
On the entire season, another Liverpool fan added, "After the midfield, a new right back is the biggest priority, people can pretend otherwise but Trent has been absolutely abysmal this season. It's up to him then can he deal with the competition next season."
A second mocked, "I don't think Vinícius has humiliated a player more than he humiliated Trent. Victim."
"If Araujo is the 'anti-Vinicius', what is Trent? As good as a log of wood against Vini, genuinely," joked a third.
"Trent, two stinkers in a row against Vini, dribbled past eight times over the two legs and at fault for at least one goal," a fourth pointed out.
And a fifth simply said, "I've never seen a player be as constantly owned as Trent is by Vinicius. This has GOT to be personal."
Carragher's comments were somewhat reminiscent of Gary Neville's ahead of the World Cup which, at the time, caused some controversy.
Now it seems even his most hardened of defenders are starting to come round to Neville's way of thinking, although don't put it in those terms to Carra...