Liverpool target Joao Gomes has told of his ambitions to play in the Premier League in the future.
The Brazilian midfielder, who currently plays for Flamengo in his home country, was recently a part of the side that won this year's Copa Libertadores.
Former Inter Milan striker Gabriel Barbosa scored the only goal of the game, with Gomes also impressing throughout the final.
Liverpool's interest in the player first surfaced in September - but he nearly joined Manchester United in the summer transfer window.
That is according to South American expert Tim Vickery, who told talkSPORT that there was speculation Gomes could be involved in a swap deal, with Andreas Pereira moving to Flamengo on a permanent deal, having been on loan last season.
But the Pereira deal fell through, with the midfielder joining Fulham instead.
Gomes, who is 21 and has also been linked with Real Madrid, is described as a 'bloodhound' for his intense pressing and work rate in midfield. He also has a proficiency in his tackling, and can carry the ball forward.
Speaking on Instagram in August, Gomes made his future footballing dream clear.
Gomes speaks of Premier League 'dream'
Replying to a question about whether he would join Liverpool or another Premier League team, Gomes replied (quotes via ESPN): "Liverpool is a team I would play for. I have the greatest desire to play."
He also answered questions on the Champions League, and the Brazil squad for the World Cup, for which he would not be selected in.
"Playing in the Champions League is my biggest dream, and that of my family. My biggest dream in football," he said.
"Very difficult [not to go to Qatar]. I dream, but I'm realistic. There are a lot of people ahead. I'll work to go to the next one."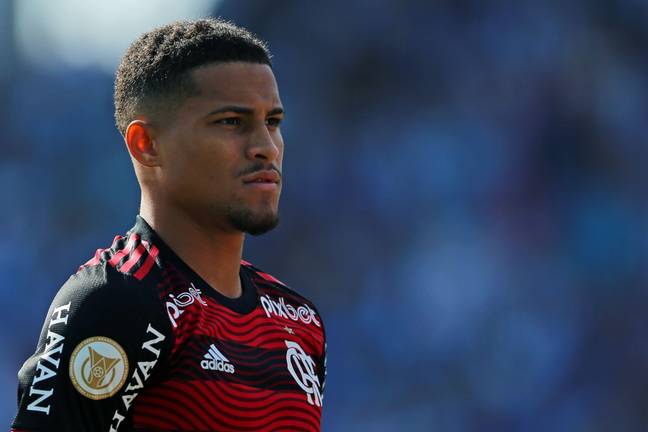 By the time the next World Cup comes around - the next edition is set to be held in the United States, Canada and Mexico in 2026 - Gomes could be a Liverpool player.
Now, in quotes from Coluna do Fla, Gomes has said: "I dream of playing in several European leagues. But the Premier League is the one I watch the most, and is the most competitive.
"My big dream is to play in the Premier League, and I hope to achieve it, God willing, everything will be fine."
In September, Spanish outlet Mundo Deportivo claimed that Flamengo want €60 million for the player - which may well be within Liverpool's price range.