Footage of Toto Wolff's Son Meeting The Formula 1 Drivers Will Make Your Heart Melt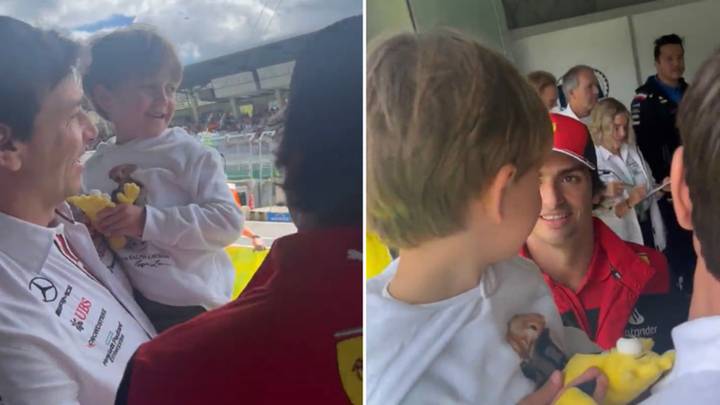 Toto Wolff's son, Jack stole the show during the Austrian Grand Prix after wholesome footage of him meeting the Formula 1 drivers emerged.
The Austrian Grand Prix is Red Bull's home race but it is also the Mercedes team boss' home race. And he decided to take full advantage as he took his five-year-old son for a tour of the F1 paddock.
The Mercedes F1 team posted the wholesome footage on their official social media account. In the video, Wolff was carrying his son to meet drivers which included the likes of Mick Schumacher, Esteban Ocon, Lance Stroll, Sebastian Vettel, Charles Leclerc, Pierre Gasly, Carlos Sainz and former Mercedes driver Valtteri Bottas.
Jack had a few conversations with the drivers as they shared the lovely moment ahead of the race. Wolff talked to Bottas for the longest as both spent time together at Mercedes. Bottas and Lewis Hamilton were vital in the team winning multiple constructors title.
Jack is getting a real taste of the motorsport world at such a young age, and could be a future world champion in the making.
This is not the first time we have seen Jack on screen, he was involved in the Netflix F1 themed series Drive To Survive along with Wolff's wife, Susie, who was a former driver and is also the CEO of Venturi Racing, which is a team in Formula E.
The race however, did not go Wolff and his team's win as Ferrari driver Leclerc picked up the win ahead of Red Bull's Max Verstappen. Mercedes drivers Hamilton and George Russell came third and fourth respectively.
It has been a tough start to the season for the team who has won the last eight constructors title but this season has been far from ideal.
They have been struggling with the ride of the car since first day of testing and the pace of Red Bull and Ferrari are just too much for Mercedes to deal with.
Their hopes of winning nine titles in a row are extremely thin and Hamilton's dream of a record breaking eighth title will have to wait.
Mercedes currently sit third in the standings with 237 points, 66 points behind second placed Ferrari and a huge 122 points behind leaders Red Bull.
Max Verstappen will be the favourite to defend his world title as he is currently top of the leader board with 208 points, 38 points ahead of his closest rival.