Michael Schumacher once revealed himself to be the Stig on Top Gear, he certainly would have been perfect for the role.
It depends who you ask exactly, but no one could argue if you named Schumacher as the greatest Formula One driver ever to step foot in a car.
With German won seven drivers' World championships, giving him the joint most with Lewis Hamilton, and was a fierce and aggressive competitor.
After winning two titles with Benetton, the legendary driver won five in-a-row with Ferrari, winning the first title in 21 years for the Prancing Horse, when he won his first in 2000.
One of his most iconic away from the track came in 2009, when he appeared on Top Gear, when The Stig revealed who he 'really' was.
The Stig character was a masked racing driver who always showed Jeremy Clarkson, Richard Hammond and James May how to drive.
His actual name remained a mystery for years, as he only ever appeared dressed head to toe in racing gear, and never lifting his visor.
With rumours flying about who it might have actually been, the Top Gear team decided to tease that they'd finally reveal who it was.
Out came the Stig and he sat on the couch to be interviewed by Clarkson, who praised the mystery man with how well he drove the Ferrari.
That was some understatement when Schumacher was revealed to be the person wearing Stig's outfit, but of course it wasn't actually him.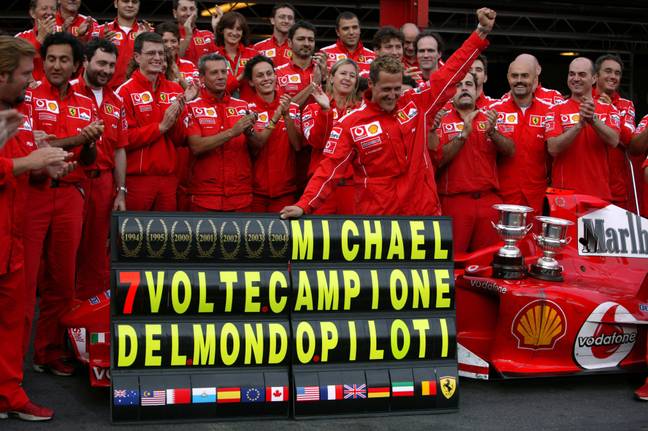 Schumacher first joined F1 when he was given a seat at Jordan in 1991, and he impressed straight away with the midfield team.
He won his first Drivers' Championship in 1994, with the season marred by the death of Ayrton Senna, sadly fans never got to see the two greats battle it out for a title.
That title also ended in controversy, after he collided with Damon Hill during the final race, with the British driver battling with his rival for the title.
The German was allowed to keep the title, despite claims that he'd purposely crashed into his rival in order to stay ahead in the championship.
The Benetton driver defended the title the following year, once again defeating Hill but this time by a much bigger difference in the points standings.
He moved to Ferrari in 1996, with Hill winning the title that year and then Jacques Villeneuve and Mika Hakkinen winning the subsequent years.
Schumacher then came roaring back, and creating the most dominating period of any driver in history, winning five-in-a-row.
He retired at the end of the 2006 season but returned in 2010 with Mercedes, in the new German team, driving alongside Nico Rosberg.
Schumacher drove for two years with the Silver Arrows before hanging up his helmet for good, leaving the sport as a legend.
Sadly in 2013 he suffered an awful accident whilst skiing, falling onto a rock and suffering a head injury and being induced into a coma.
He has not been seen in public since his accident, but he remains a hero to millions around the world.