Michael Schumacher's Wife Reduced To Tears After Admitting 'He's Different Now'
The wife of Formula One legend Michael Schumacher, Corinna broke down in tears whilst speaking about her husband's condition, admitting that "he's different now".
Corinna couldn't hold back the tears as she accepted an award on her husband's behalf, Schumacher was awarded the State Prize of North Rhine-Westphalia last Wednesday.
Corinna has previously spoken about the F1 legend's condition.
She said: "I miss Michael every day. But it's not just me who misses him.
"It's the children, the family, his father, everyone around him. I mean, everybody misses Michael, but Michael is here. Different, but he's here and that gives us strength, I find."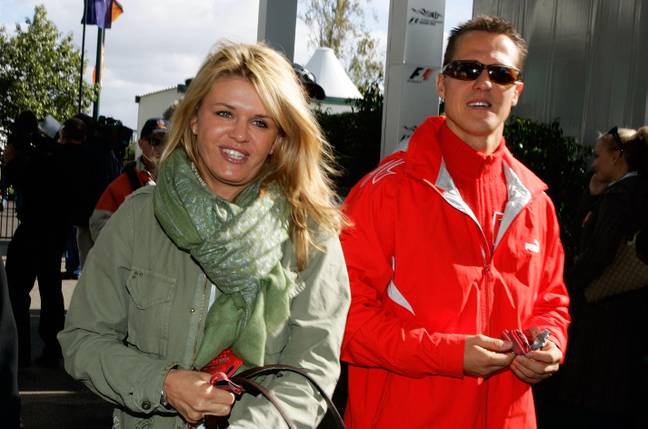 The Schumacher family rarely speak about the seven time world champion's health publicly due to the former racer's insistence on family privacy.
Corinna added: "We try to carry on a family as Michael liked it and still does. And we are getting on with our lives. 'Private is private', as he always said. It is very important to me that he can continue to enjoy his private life as much as possible.
"Michael always protected us, and now we are protecting Michael."
Schumacher retired in 2012 after a stellar career on the track, but just a year later he was involved in a life threatening accident whilst skiing on the slopes with his son Mick.
He suffered life changing brain injury which caused him to be in a medically induced coma. he has not been seen or heard publicly ever since.
During his astonishing career, he won two titles with Benneton in 1994 and 1995, later winning five world championships in a row for Ferrari between 2000 and 2004. He first retired in 2006 but was lured back into the sport by Mercedes in 2010 before calling time on his career again in 2012.
Schumacher's son, Mick is now making a name of himself in F1 with Haas and has previously said that he "would give up everything" just to talk to his father about motor racing.
Mick said: "I think dad and me, we would understand each other now in a different way now.
"Simply because we speak a similar language, the language of motor sport. And that we would have so much more to talk about. That's where my head is most of the time. Thinking that it would be cool that would be.
"I would give up everything just for that."