Saudi Arabian footballers celebrate with Argentine teammate Ever Banega
Saudi Arabian football players tracked down their Argentine teammate to celebrate their country's famous World Cup shock with him.
The Saudis caused one of the biggest upsets in the 96 year history of the World Cup, when they defeated Argentina 2-1 on Tuesday afternoon.
Those in Qatar weren't the only ones to rub it into the Argentinians though, with players from Saudi club side Al-Shabab FC trolling their teammate.
Argentina midfielder Ever Banega plays for the Saudi side and his teammates hilariously ran into his room and jumped all over him, fortunately he took it very well, as you can see in the video below.
Whilst Banega hasn't played for his country since 2018, when he was part of the previous World Cup squad in Russia, he'll no doubt have been hoping his fellow countrymen could spare him from ridicule in the place he currently lives and works.
Three Al-Shabab players are in Herve Renard's squad in Qatar for the tournament, with defender Hassan Altambakti amongst those who impressed against Argentina.
Nawaf Albid also made it onto the pitch for the game, coming on as a substitute late in injury time in the first half, with Salman Al-Faraj unable to carry on.
The midfielder was replaced later in the game by a defender, as the Middle East side shored up their backline to stop the late Argentina onslaught.
It certainly worked, with Renard's team never looking too stretched in trying to keep the Copa America champions out after they'd gone 2-1 up.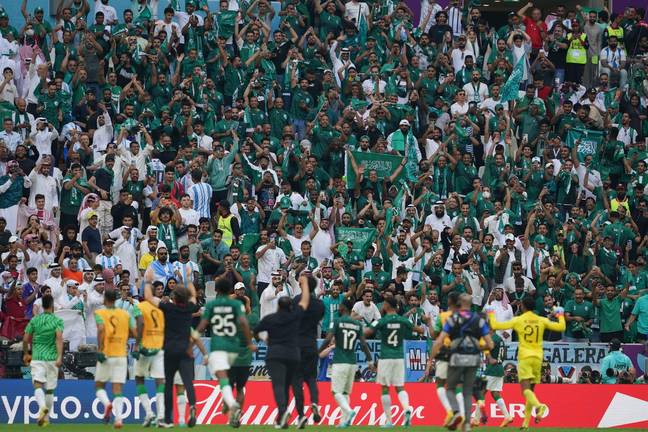 That means that all workers in the public and private sector, as well as all students, in the country will have the day off, following the huge win.
One football fan certainly won't be so happy about Salem Al-Dawsari's stunning winner, as well as Argentina's three disallowed first half goals, after losing a massive bet.
The punter probably would have been feeling pretty confident when Lionel Messi put Argentina ahead from the penalty spot, and with the South American champions only not adding to their lead due to the offside trap.
However, the two goals in the second half saw him lose the bet that would have 'only' seen him make $20,000 in profit, which isn't a lot considering his stake.
Perhaps that will serve him, and everyone else, right for counting Saudi Arabia out, Poland and Mexico would certainly be wise not to in their next two group games.