Erling Haaland's Manchester City release clause can't be activated by any other Premier League side, according to reports.
The 22-year-old has taken English football by storm since arriving from Borussia Dortmund in the summer.
Haaland's scored 20 goals already, including three consecutive hat-tricks at the Etihad Stadium. Teams across Europe are already wondering when they can test City's resolve for Haaland, given his impressive start.
The Athletic have claimed Haaland does have a release clause of £175.5 million, which comes into effect in 2024.
Crucially, none of City's domestic rivals will be able to poach their star striker. Haaland signed a five-year deal with City and his release clause lowers with each passing year.
City have won four of the last five Premier League titles, currently sitting second in the table and unbeaten in all competitions this season.
They've received no indication Haaland wishes to leave, but they likely wouldn't stand in his way. Guardiola let Leroy Sane join Bayern Munich in 2020, while Bernardo Silva has come close to the exit a number of times in the last few years.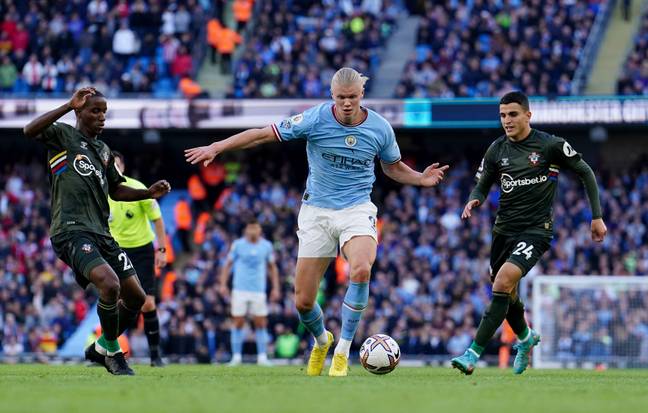 He declared in the 'Haaland: The Big Decision' documentary: "I think Erling wants to prove his abilities in all leagues. Then he can stay there [Manchester City] for three or four years at the most.
"He could be, for example, two-and-a-half years in Germany, two-and-a-half years in England and then in Spain, Italy, France, right?"
City return to action on Tuesday evening against Copenhagen having won all three of their group games so far.
They face Liverpool on Sunday, but Guardiola is remaining coy when it comes to resting Haaland.
He said in Monday's press conference: "National trainers will decided what to do, so I will not think about that.
"Tomorrow we will do the same. We have to speak with the players. It's true there is a risk for fatigue. It must involve everyone."