Barcelona 'Crazy' About Superstar Talent, Want Him To Become The 'Ronaldinho' Of Laporta's First Project
​Barcelona president Joan Laporta​ is 'crazy' about a certain footballing phenom and wants him to become the 'Ronaldinho' of his first project.
​Laporta had a previous seven-year spell in the role, between 2003 and 2010, and oversaw the blockbuster signing of Ronaldinho.
The Brazilian superstar starred as he won two La Liga titles and the coveted Champions League during his spell in Catalunya​.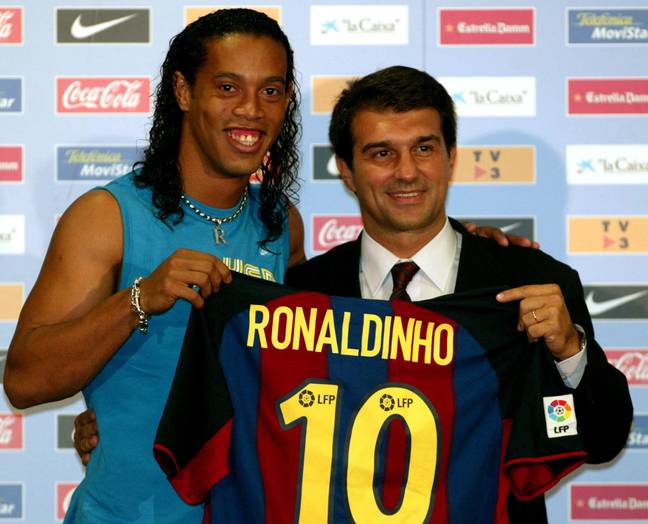 The 59-year-old wants a similar transfer for his second spell at the club, and he's identified his target. Enter Erling Haaland.
According to Spanish journalist Gerard Romero, Laporta is 'crazy' about the idea of signing Haaland.
He wants the 21-year-old to be the 'Ronaldinho' of his first project.
Romero​ continues by claiming that Barca are well positioned to snap up the Borussia Dortmund forward because of Laporta's 'great' relationship with the player's agent Mino Raiola.
As for Haaland, he wants to be the 'leader' of his next team and he's relayed that information to Raiola​ who'll engineer his move, which could happen at the end of the season.
​In addition, Haaland prefers La Liga over the Premier League - and likes the Spanish league a lot, according to transfer expert Gianluca Di Marzio.
​"He (Haaland) doesn't like Premier League too much. It is not in his dreams. It is not the perfect league at the moment," he told Wettfreuende​.
"He prefers La Liga - he likes Liga a lot. So, I think in his thoughts, La Liga is the perfect tournament, now, to play in. Or Bundesliga, where he is currently playing.​
"​Only Real Madrid and Barcelona can get him because he cannot go to Atletico Madrid or other clubs. Probably because when he started playing - like Mbappe who wants to play for Real Madrid - he told his agent to try for Real Madrid, if not them then Barcelona and if not Barcelona then Chelsea, Man Utd etc.​"