Tyler Morton Exclusive: 'I Couldn't Be More Thankful To Jurgen Klopp For What He Has Done For Me'
"When the Champions League anthem was playing, I looked up and realised how big this moment was. Then I remembered what he [Jurgen [Klopp] said to me before the game. It took a big weight off my shoulders. It gave me so much confidence."
On November 24, 2021, at around 7:57pm, Wirral-born midfielder Tyler Morton was moments away from making his Champions League debut against FC Porto when the sheer magnitude of the occasion began to sink in.
Four days earlier, Morton was given his first taste of Premier League action, coming on as an 84th-minute substitute against Arsenal. But this was a different type of pressure. There was no four-goal advantage and ultimately, he was handed a first team start in Europe's most elite competition.
Standing next to Ibrahima Konate and Kostas Tsimikas, the famous anthem echoed around a capacity Anfield when some words of pre-match wisdom from Jurgen Klopp provided Morton with a timely reminder of his role.
It is why the German is regarded as one of the best coaches in world football.
"He told me that if anything goes wrong today then it's not on my back, it's on his," Morton tells SPORTbible. "He basically wanted me to know that he is experienced enough to not just throw me in at the deep end. He wanted me to know that I am good enough.
"Those words help you become a better player," he added. "I didn't feel nervous from that moment on and that was because of our chat. It made me open up and play forward with my first few touches. I was away after that. He's one of the best managers in the world for it. He has been unbelievable to me."
Morton went on to produce an almost faultless performance in the middle of the park. He made two interceptions, more than any other Liverpool player managed during the game, and pulled the strings in a deeper role, completing 83% of his total passes alongside Thiago Alcantara, who was full of praise for the youngster at full-time.
"The first time Tyler came, I said 'who is this player?' as he was training amazingly with us and he deserved to be part of the team tonight," the Spaniard told reporters. "I think he will have a bright and great career here at Liverpool and in football in general."
In an interview at the beginning of last year, Tyler said it was his dream to just train alongside Thiago. "I used to watch Thiago when he was at Bayern Munich on the TV and he's just a magician," he said. Now, he was playing alongside his childhood idol on the biggest stage of them all.
And perhaps above everything else, the 19-year-old had repaid the immense faith shown by his manager. After the full-time whistle, Jurgen Klopp was full of praise for the youngster. "He did exceptionally well," Klopp told reporters. "He's a good player. I'm really pleased for him that he could put in a performance like this."
It was a life-changing moment for the local lad. Morton has certainly impressed plenty of Liverpool supporters with several coming-of-age performances since that night at Anfield but he knows there is a long way to go. "If you really want it, you have got to work hard and that's what I'm doing," he tells us.
"I'll try and do that to the best of my ability and see where it takes me."
Greenleas FC is where this path to Premier League football begins. A junior side regarded by many as one of the best in the country, a total of eight players went on to play academy football for either Liverpool or Everton from that 'special' group in 2008.
Three of those players are still involved in the Liverpool set-up; Sean Wilson, Max Woltman and Tyler Morton.
Morton was seven years of age when he first caught the eye of several clubs. Despite interest from elsewhere, there was only one club for him. "We were all wanted by a few clubs but Liverpool stood out to me personally and also for a lot of the other lads," he says. "We were from around the area. That's who we supported."
It has been 12 years since Tyler was spotted by the Reds while playing for his local side but to this day, he remembers the scout approaching his mum and dad to let them know that they were interested. "My dad was buzzing," he says. "He's a big red.
"Liverpool, as a city, is massive to me and so are the fans," Morton continues. "I play for the team I support and have always supported. I love it. I'll follow Liverpool for the rest of my life, no matter who I play for. It's in my blood. When I go out there and walk out, I know the people watching are cheering me on. I was them not so long ago."
Tyler, who still lives in The Wirral with his family, knows how important they have been down the years. Growing up, the academy product would try and play Xbox in the evenings but Morton's father, Scott, would force him to go out and practice instead. Even when it was dark, Tyler would work on different drills with Scott for hours while the family dog ran around the local field. "I'd work on my passing with him all the time," the 19-year-old says. "He's been a big part of my achievements so far."
Throughout his time in the youth system, Morton was also a season ticket holder at Liverpool. He would often study Steven Gerrard from his seat in the lower Anfield Road stand before trying to replicate the former England international's style of play during games.
Coutinho, who had just joined the club from Inter Milan, was another big influence. In his first training session, the Brazilian made a lasting impression as 11-year-old Tyler watched on in awe. "We didn't even know who he was at the time," the teenager remembers. "He came in and was nutmegging everyone. It was mad."
As he witnessed some of the club's best players in training, Morton was making some serious progress himself. He went on to represent Liverpool in every age group and last season, he impressed after scoring 10 goals for the U18s and U23s before helping his side reach the FA Youth Cup final.
His contribution didn't go unnoticed.
After a productive year with the youth team, Morton was included in Jurgen Klopp's pre-season plans ahead of the 2021/22 campaign. After a number of training sessions, he made his debut in a friendly against Austrian side Wacker Innsbruck and impressed onlookers.
Two months later, he was handed his competitive debut in a Carabao Cup win against Norwich City, coming on as a second-half substitute. He was also named on the bench for Premier League games against Brighton and West Ham.
But on November 20, 2021, as Liverpool held a four-goal lead against Arsenal, academy product Morton was given eight minutes to prove himself.
"I was on the bench for a few games beforehand and had a gut feeling I was going to come on," he remembers. "I didn't get told beforehand. I was warming up like normal and Jurgen [Klopp] called me over. I couldn't hear him at first because it was so loud and I was like 'is he shouting at me?' But then I heard him again and was absolutely buzzing.
"He [Klopp] was really good with me," Morton added. "He said: 'show them what you have got. Show everyone what type of player you are.' I didn't have long on the pitch but with my first touch, I beat someone and won a big 50/50 header. It was a big opportunity and I loved every minute of it."
The teenager received a standing ovation from the Anfield crowd after coming on for Thiago. To replace his childhood idol was, in his own words, a "surreal" moment. "I said a while back that I was trying to base my game around Thiago and then I was replacing him," he says with a grin. "He gave me a warm hug and said: 'go and enjoy yourself.'
"To get feedback like that from a player like Thiago was unbelievable. It was special."
What a moment for Tyler Morton as he replaces Thiago.

— Anfield Watch (@AnfieldWatch) November 20, 2021
Following his Premier League debut against Arsenal, Morton would go on to feature in the Champions League against FC Porto and AC Milan before being given precious first-team minutes against Premier League opposition in Spurs and Leicester.
Jurgen Klopp's decision to place his faith in youth throughout the season has been admirable. In terms of his progress since joining up with the first team, Morton does not hesitate when naming Klopp as a key influence in his journey so far.
"He's put his trust in me and given me first-team minutes," the 19-year-old says. "Without coming on against Norwich in the League Cup and trusting me in that deep-lying role, I wouldn't be where I am today. That was the performance where I showed what I was all about and what I can do.
"I couldn't be more thankful to Jurgen for what he's done for me. He's trusted me in big games. Honestly, he's been unbelievable with me. I'm extremely happy with where I am at the moment. They are trying to develop me as a player. They pick up on little things I need to improve on and talk me through them. He's helped me become a better player."
Klopp knows there is still work to do. At the start of November, following an impressive outing against Championship side Preston North End in the EFL Cup, he praised the teenager but gave an honest assessment of what he must work on in the coming months.
"I told him [Tyler] now we pretty much have to send him directly to the gym now," the German said. "Because if he gets a body, he's a brilliant footballer. There are obviously some things to come physique-wise, but the football brain is outstanding."
Tyler is determined to become a more complete player. He is not the finished product yet, and he knows that.
"It doesn't look like it but I have been going to the gym!" he laughs. "I've always worked on my physique and will continue to do so. It will take time. I know that because of how my body develops. He [Klopp] is definitely right. I understand it and he's spoken to me about it. It's what I want to work on.
"I feel like I can improve in every single aspect of my game, to be honest," Morton adds. "I'm still young. I'm still learning the game. As time goes on, I will continue to improve."
Being around the first-team squad has also helped Morton's overall game. At U23 level, he would often play further forward but Klopp has used him in a deeper role, where he is able to recycle possession and help the team progress going forward with tidy passes.
The experienced members of Liverpool's squad continue to play a big role in his development, with Andy Robertson, James Milner and Jordon Henderson being at the forefront, but the influence of Fabinho has perhaps been most important of all.
"I know I've got to learn the defensive side of things more and who better to learn from than Fabinho," he says. "What he does is unbelievable. He is the glue of our team. I'm learning from him every single day. I always watch what he does in training and in video clips.
"I actually studied him towards the end of my time at U23 level. It helped me out. Just watching his positioning; where he is when the ball goes out wide, or where he is when the ball goes down the middle. Second balls are the main thing for a number six… hopefully I can progress in that deeper role."
Morton is clearly a wise head on young shoulders. He admits to being someone who takes every game in his stride, working hard to improve and better himself, both on and off the pitch. The talent is there, of course, but he knows there is still a long way to go.
"I don't really think of the future too much," he says. "I feel like, if you think of the future, you're not really living in the present. That's what I like to do. If I keep working hard - and keep doing what I'm doing - hopefully, I can get a few more minutes under my belt and carry on performing to the best of my ability.
"I feel like hard work can take me anywhere," adds Morton. "I just need to make sure that in every training session, I'll work as hard as possible. I'd love to play for Liverpool as long as I can but I know what football is like - it can take you anywhere. I don't really think of the future. I just think of playing for Liverpool."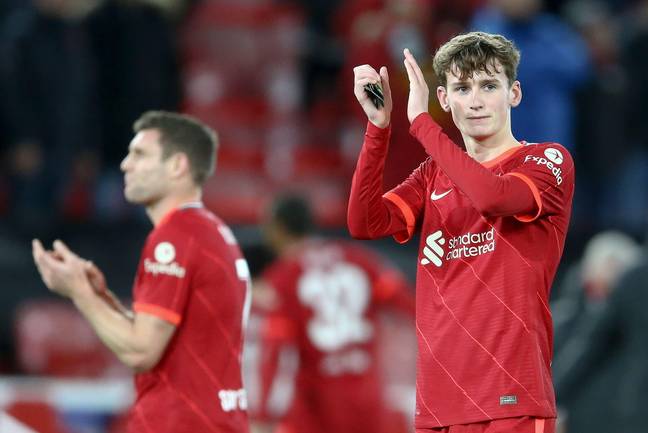 He has only played eight times in total for Liverpool this season but after experiencing firsthand the influence senior players can have on your game, Morton was able to pass on some valuable words to best friend Max Woltman earlier this month.
Both of the Greenleas youth products featured in their FA Cup third-round clash against Shrewsbury. In fact, Woltman, whose only appearance this season came in December during a two-minute cameo against AC Milan, started for Liverpool alongside the likes of Kaide Gordon, Conor Bradley and Elijah Dixon-Bonner.
Ahead of kick-off, Morton wanted to give his teammate some words of encouragement.
"When I was walking out with Max, I tried to comfort him because I was in his shoes not so long ago," Morton says. "I said 'you know you deserve to be here so do your thing.' He showed the quality he has. On your debut, you are always going to be nervous and I said that to him.
"I'm really proud of what he has achieved. I couldn't be happier for him and for all of the other young lads."
Tyler can look back on the past few months with incredible pride. He has played in the Champions League against some of the biggest clubs in Europe, alongside a childhood idol and one of the Premier League's finest defensive midfielders; a player he studies on a daily basis in training.
Now, the teenager wants to push on, fight for his place and prove a point.
"It's been something that I've dreamed of my whole life," Morton says with a big grin on his face. "To think of where I am at the moment and what I've done so far... hopefully, I can carry this on and perform well. Just playing for the club I love. It's the best team in the world, in my opinion. Just to even step foot on the training pitch every single day is surreal. I love it.
"It's something I couldn't have even thought of a couple of years ago," he added. "Now that it has come true, I've got to make sure I fight for my place. I'll just keep fighting for what I want to achieve. You've got to keep your feet on the ground, I understand that. You are in the same boat as the rest of your teammates.
"If you really want it, you have got to work hard and that's what I'm doing."