Football
Erling Haaland Told He "Has To Learn" After Brutal Argument In Recent Game, Criticised For His Response
Erling Haaland has been told he's immature, after going public about an argument with a player on the pitch during Norway's recent win over Sweden.
Haaland is the name on everyone's lips following his move to Manchester City yesterday, you can read over 20 articles related to the striker written in the past 24 hours on SPORTbible alone.
However, one opponent believes that he can improve his maturity, after a spat with Sweden's Alexander Milosevic in a recent Nations League game.
Speaking to local tv after the game, the 21-year-old claimed his opponent had called him a 'w***e,' saying, "First he called me a whore, which I can assure you I'm not, and told me he was going to break my legs. Then I scored a minute later."
Now a fellow Swede has called Haaland out, telling the former Borussia Dortmund man that he's been immature by revealing what was said.
"I've been to Spain and Germany and many serious things are said there between the players," Sweden's Ludwig Augustinsson said ahead of the reverse fixture on Tuesday.
"That's something you have to deal with and not repeat in the media. As a player, you have to learn that.
"It was a bit immature from him [Haaland], because that can be something that annoys you, but there is a derby feeling between Sweden and Norway and those things can happen in the game."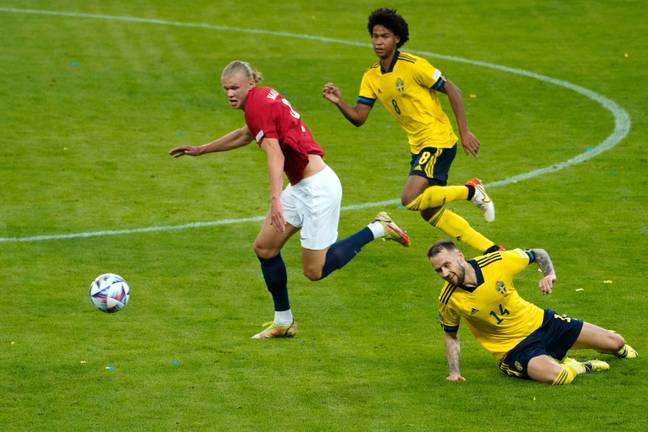 From his side, Milosevic denied the accusation, saying, "I never called him a w****. I don't want to waste time on things that have been said on the pitch.
"I don't speak or understand Norwegian. I don't know if he speaks Swedish. What happened on the pitch stays there, I'll just move on."
City fans certainly won't care how immature he is when it comes to spreading post match gossip, as long as he keeps up his scoring record from his Dortmund days.