Fantasy Premier League (FPL) is days away from kick-off - meaning it is time for players across the world to create a league for the 2023/24 season.
Public and private leagues are one of the most entertaining parts of FPL, with players able to take on friends, family or colleagues across the season in a battle to score as many points as possible.
Last season, FPL introduced a cup for each individual league. Although there were no prizes on offer, unlike the official FPL cup, it added an extra element of excitement to the competition.
If you had a league last season, it should automatically renew when you set up your team for 2023/24. However, you may have to re-invite competitors.
But if you are new to FPL, or didn't play last year, you will have to create new leagues in FPL 2023/24. Here is how to do it.
How to create a league in FPL 2023/24
Firstly, you need to go to the main FPL homepage, before clicking on the tab that reads 'Leagues & Cups'. From here, you can either join an existing league and cup, or create a new one.
Once you have clicked on 'Create a League & Cup', you will be presented with several other options.
The first is to create a classic league, where teams are ranked based on how many points they earn across the season in a league-based format.
You can also choose a head-to-head league, in which players play a different team in the league each round, with players earning points if they defeat their opponent.
From there, there is just a few steps to go.
All you need to do is submit the club for your leagues - inappropriate names will not be accepted by FPL - before reading through the rules about point scoring and cups.
Then, click 'Create' at the bottom left of the screen to confirm your league.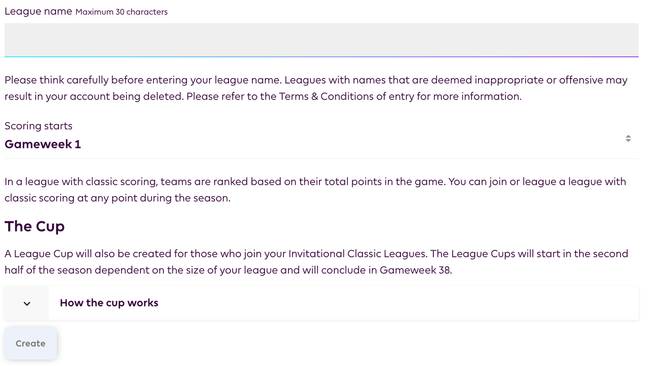 How to invite other players to an FPL 2023/24 league
When inviting other players to the league, you need to return to the main 'Leagues & Cups' page.
Then, select the 'Options' setting to the right of your chosen league, and click on 'Invite friends'.
You can copy the auto-generated league code that appears on the page or share it via email with friends.
Any competitor who wishes to be in the league will need to enter the code, unless you have created a public league.