Guardiola makes Liverpool claim in astonishing X-rated response to Champions League criticism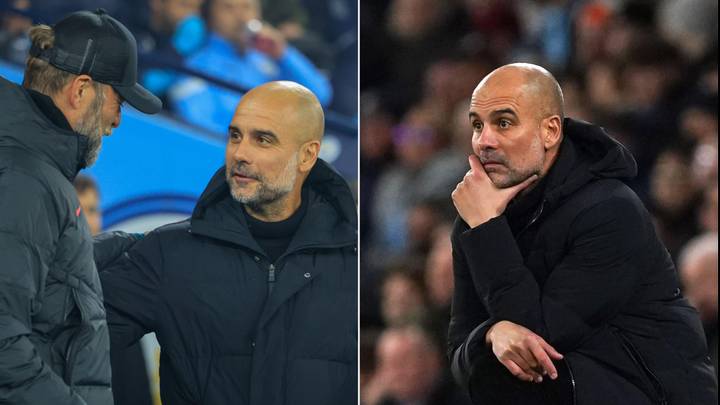 Manchester City boss Pep Guardiola made a reference to Liverpool during his post-match press conference after his side won 4-2 against Tottenham on Thursday evening.
It was anything but a straightforward 90 minutes for the Cityzens, who went into the half-time break at 2-0 down and at risk of losing their third consecutive game in all competitions.
But they bounced back in the second half, Riyad Mahrez scoring twice as City produced a superb turnaround to ensure they got back to winning ways.
They are now five points behind league leaders Arsenal, though the Gunners have a game in hand.
Despite the victory, however, Guardiola appeared to be furious in his post-match interviews, telling Sky Sports the side lacked the 'passion, desire, to win from minute one', and adding that he 'doesn't recognise my team'.
He also said that the fans were 'silent' during the first 45 minutes, and that he 'want[s] my fans back' during home games at the Etihad Stadium.
And in his post-match media conference, the Spaniard made more remarks following the victory - including a reference towards the quality of Liverpool throughout Jurgen Klopp's reign, and the fact they have ran City all the way in two of their previous four title wins.
Guardiola on Liverpool, Premier League success
Guardiola detailed (quotes via : "This is a challenge. I want it, I expect that, I see the team do it, but there is detail.
"It's not about the way we play, the quality of the players, are you going to judge them? I love them. They're fantastic players. They are the details. It comes from the success we had in the past, we have to admit it.
"We had success. People say, 'We haven't had success because we haven't won the Champions League' - bulls**t! We won a lot. We won a lot. In this country, two back-to-back (Premier League titles) in this country, and the way we played, the consistency, against this Liverpool... What a success.
"We have to look at ourselves. It's not enough. It's not okay."
City are back in action on Sunday when they take on Wolves in the Premier League, and will be desperate to produce a response following the disappointing first half against Spurs.