Thomas Gravesen's New Biography Contains Some Incredible Stories
Thomas Gravesen was known by players, managers and fans alike as a no nonsense player who loved nothing more than kicking people up and down the park.
The tough-tackling Dane, who played for the likes of Everton, Real Madrid and Celtic, called time on his established career at the age of 33.
But since his retirement, a number of incredible stories have emerged about the man himself.
In celebration of the Great Dane's 42nd birthday, a pictorial homage to the batshit craziness of Thomas Gravesen:

:bomb: set off fireworks in physio's room
:gun: fired paintball guns in training
used Robinho as a punchbag
:moneybag: is now worth over €100m
:slot_machine: lives with a model in Vegas pic.twitter.com/tt3VfZCEA1

- Proper Football (@sid_lambert) March 11, 2018
He was certainly shrewd with his investments and played a fair bit of poker after hanging up his boots. Now he's worth a whopping €100 million euros.
In addition to that, Gravesen is apparently living in Las Vegas with Kamilla Persse, his American other half who has Czech roots.
Let's face it, we all enjoy a story about the former Premier League midfielder, so we were all delighted to find out that a biography has been released about the 42-year-old.
From a fireworks fight with Wayne Rooney to knocking out Ronaldo's tooth in Real Madrid training, this man has done it all.
That's right. Gravesen once threw fireworks at the former Manchester United striker and his former boss David Moyes revealed all:
"It was the old gym, it's about 60 yards long. Thomas and Wayne, they were shooting fireworks at each other." he said via The Mail.
"They had big rockets full of gunpowder, they were holding one end and shooting them at each other'.
More Like ThisMore Like This
1 of 6
"Tommy was mental in a good way. He was a great player and we loved him He wouldn't listen but it wasn't in a bad way.
"I think it was a wee bit where he didn't want to hear you and just did his own thing. He was crazy in his training. He was a good lad but mental.'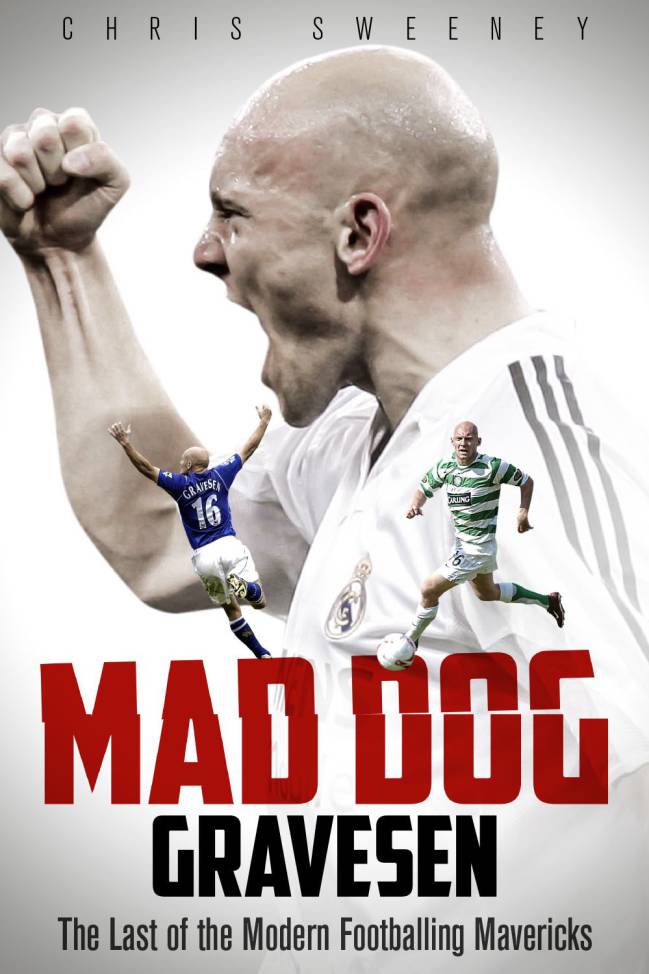 Image: Mad Dog Graveson/Chris Sweeney

Oh, and about that time he knocked out Ronaldo's tooth.

He was known to throw his teammates around during his time at Los Blancos after locking them in a bone-crunching hug, but one time he launched the Brazilian to the ground with such force that he lost a tooth.
"Thomas was a character, he made us laugh a lot. He was so much fun and genuine too." said former teammate Borja Fernandez.
R9 might have something to say about that one, Borja.

There are so many more stories from this incredible biography by Chris Sweeney, including dating a porn star, working as a car salesman and an in depth look at his time in Las Vegas playing Poker.
I recommend you give it a read.
Topics: Football News, Celtic, Football, Premier League, Everton, Denmark, Real Madrid
Chosen for YouChosen for You
Most Read StoriesMost Read