This Team Voted The Greatest Premier League XI Of All Time By Fans
It may seem like an almost impossible task, but fans have voted for their greatest Premier League XI of all time.
Take a deep breath and try to gain some composure, folks, this might cause some controversy.
Lets start with Peter Schmeichel, who predictably features between the sticks. Not only did he win the treble with Manchester United during his eight year spell at the club, but his spells at Manchester City and Aston Villa cement him as a Premier League great.
Former teammate Gary Neville slots in at right-back alongside two of the greatest captains in Premier League history, John Terry and Tony Adams.
Another former Manchester United defender, Patrice Evra, makes up the back four.
That decision in particular may bring plenty of debate considering Ashley Cole, who was described by Cristiano Ronaldo as his toughest opponent, missed out.
More Like ThisMore Like This
1 of 6
A further three Manchester United players, David Beckham, Paul Scholes and Ryan Giggs, who predominately dominated the league in the 90's and early 00's, start in midfield alongside Liverpool's Steven Gerrard.
Chelsea fans may feel the lack of Frank Lampard in the XI is an injustice, but the fact that Patrick Vieira and Roy Keane don't feature either may make up for that fact.
The king himself, Eric Cantona, features in a forward partnership with Thierry Henry as some big names miss out, including the likes of Dennis Bergkamp, Alan Shearer, Cristiano Ronaldo and Emile Heskey miss out.
Sir Alex Ferguson would take his place on the sideline and help this team dominate European competition once more.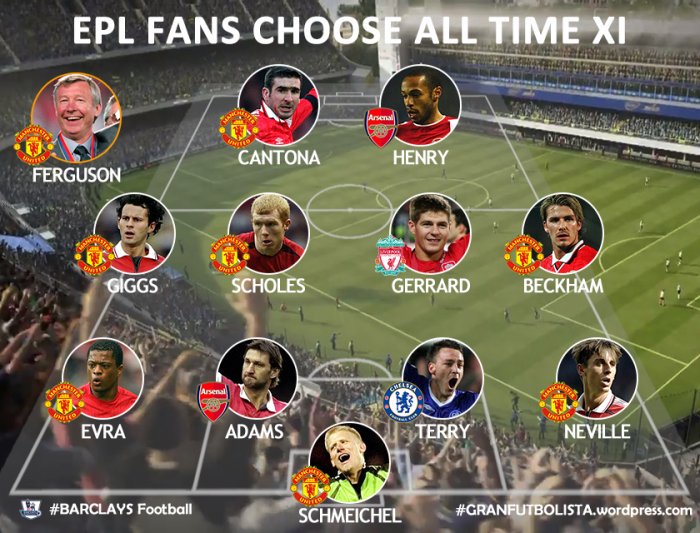 Image: Twitter
Would you change any of the above?
Let us know in the comments.
Topics: Henry, Scholes, Football News, xi, Football, Premier League, Greatest, Beckham
Chosen for YouChosen for You