Reactions of Serena Williams, Kim Kardashian and David Beckham after Lionel Messi scores last minute winner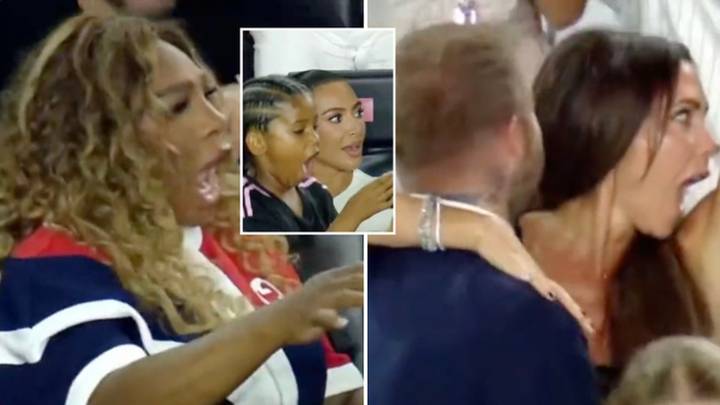 Some of the world's biggest stars were in attendance as they watched Lionel Messi make his debut for Inter Miami.
After weeks of intense speculation, Messi confirmed last month that he is going to ditch European football by leaving Paris Saint Germain for Inter Miami.
Upon signing for the club, Messi was paraded in front of a packed crowd at Fort Lauderdale last Sunday.
On Friday night, the Argentine star made his much-anticipated debut for his new club.
Inter Miami were drawing 1-1 against Cruz Azul as the match ticked past the 90th minute.
However, Messi had the last word as he scored a stunning free-kick to win the match for his team.
In attendance were some of the world's biggest stars, including TV star Kim Kardashian, Tennis legend Serena Williams and the family of Inter Miami co-owner, David Beckham.
After Messi's special moment, the reactions of Kardashian, Williams and the Beckhams were caught on camera.
Fans were quick to react on social media.
One said: "Serena Williams COULD NOT BELIEVE HER EYES after that Leo Messi winner."
Another tweeted: "Serena Williams' reaction to Messi's game winner is everything."
A third fan added: "Kim K. Serena Williams all capturing a moment of History with Messi ."
Someone else wrote: "ONLY Lionel Messi can leave Serene Williams and Kim Kardashian in awe, what a player, GOAT."
During a post-match interview, Beckham said: "It's terrible watching these games. As an ex-player, you get frustrated. As a player, you can do something about it if you're losing, when you're an owner, you can't.
"But tonight is about the people. It's about this. This is what we always saw as our vision, me and Jorge and Jose and the club, this is what we saw."
Messi and Inter Miami will be back in action next Tuesday as they host Atlanta United in the Leagues Cup.