Football
Three Senior Manchester United Players Concerned By Cristiano Ronaldo's 'Undroppable' Status
Problems are mounting at Manchester United following Monday's damaging defeat to Wolves.
The Red Devils remain four points adrift of the top four and there is growing discontent in the squad, according to reports.
The Daily Express claim Harry Maguire, Mason Greenwood and Edinson Cavani are concerned by Cristiano Ronaldo's undroppable status and his impact on their own roles in the team.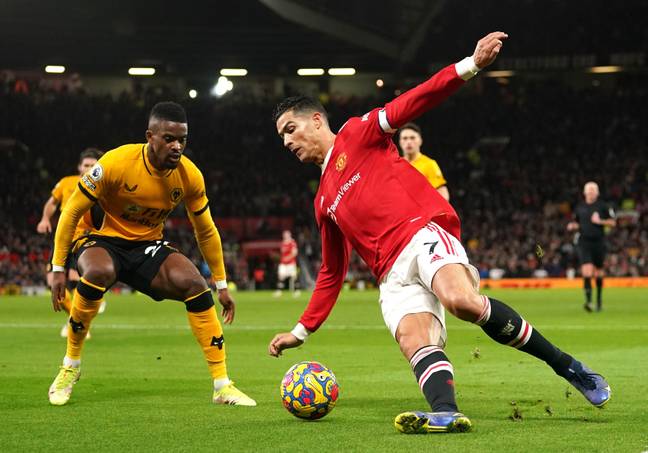 Ronaldo was named captain against Wolves after Maguire was ruled out of the match through injury, but the 36-year-old was criticised for his performance in the defeat.
According to the report, several other players in the United squad are also concerned by the influence that Ronaldo holds over his international team-mates and other Portuguese-speaking players in the squad – a group that includes Bruno Fernandes, Diogo Dalot, Fred and Alex Telles.
It follows suggestions from former United defender Gary Neville that cliques are forming in the dressing room at Old Trafford.
"On United I'm seeing reports of dressing room dissatisfaction this morning," Neville tweeted after United's 1-1 draw with Newcastle last month.
"Something wasn't right v Norwich and certainly not v Newcastle . Still four points from those games is not a disaster considering the performance levels.
"Have a meeting (without staff) and sort it out!"
An increasing number of players are said to feel marginalised under interim manager Ralf Rangnick, who has reportedly failed to impress the squad since arriving at Old Trafford.
A source told The Daily Mirror: "It's not good. The atmosphere is really bad and it looks like there are going to be big problems ahead for United."
Speaking after the Wolves defeat, United defender Luke Shaw admitted the team was not cohesive.
"I didn't feel that we were all there together. We felt like we were struggling," said Shaw.
"We weren't on the front foot, and they felt like they were in full control.
"I don't think you can put it on that (the new manager). We players have been here for a long time.
"You look at our squad, you look at our team, and we have unbelievable quality. Sometimes quality isn't enough."