Fans spot bizarre Aaron Ramsdale moment during Arsenal's Carabao Cup clash vs Brentford
Fans have spotted a bizarre moment involving Aaron Ramsdale during Arsenal's Carabao Cup match against Brentford.
On Wednesday night, Mikel Arteta's men arrived at the Gtech Community Stadium looking to secure a place in the fourth round of the Carabao Cup.
In what was a cagey affair, Reiss Nelson's goal in the eighth minute was enough for Arsenal to seal a narrow 1-0 win.
During the match, fans spotted a bizarre moment involving goalkeeper Ramsdale, who was back in the Arsenal goal after being dropped for the last three matches.
A video was posted on social media, with a caption which read: "First thing Ramsdale does after this superb save is give it large to the Brentford fans."
Ramsdale was spotted turning to the home fans after making a brilliant save to deny Brentford.
Prior to the match, one of the main talking points was whether Arteta will give Ramsdale another chance to prove himself.
Despite starting the season as Arsenal's number one, Ramsdale found himself on the bench for matches against Everton, PSV Eindhoven and Tottenham Hotspur.
Arteta decided to start with summer signing David Raya, who joined the club on a season long loan.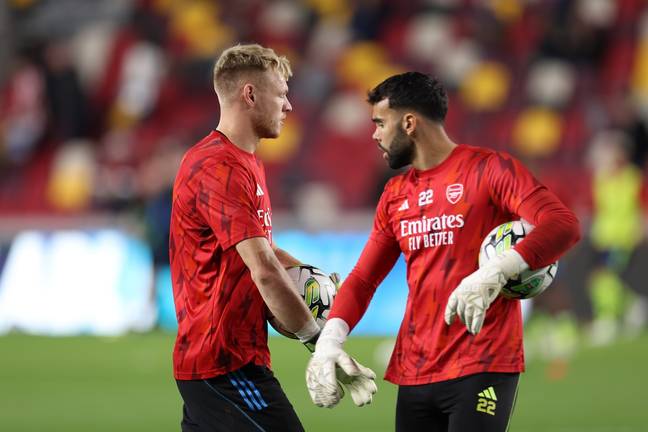 Arteta recently admitted that he understands Ramsdale's frustration.
He said: "I understand [his frustration] and it's very difficult for every player.
"He's been very supportive and good around the place and that's what I expect from every single player because when you're on the field there is someone else who's not so it works both ways. So far he's been very good."
SPORTbible are on WhatsApp! We've launched a dedicated news channel to send you the latest news, features and plenty more directly on WhatsApp and all you need to do to sign up is click through to our one-way broadcast channel here for 'SPORTbible News' to appear in the 'Updates' tab on your WhatsApp.