BT Sports pundits, and other staff, have been brought in to do more training, following an on air argument between two of their pundits.
There's plenty of things that BT Sport do well with their football coverage, not least their Goals Show on a Champions League night as the pundits bounce around to every game to see each goal.
However there has been criticism of some of their pundits and co-commentators, especially considering the comparison with CBS' coverage in America for the European competition, which has often gone viral for all the right reasons.
Now BT's pundits have been brought in to help them improve, after a discussion between Michael Owen and Chris Sutton turned into a bit of an argument, with Sutton referring to his colleague as a 'caveman.'
The conversation surrounded Leeds United's Robin Koch suffering a concussion in a game against Manchester United, in which the player was allowed to stay on for 20 minutes before eventually being subbed off with concussion.
Sutton is a huge concussion campaigner, with his father, also a former footballer, dying with dementia and the former Chelsea striker was arguing for temporary substitutions, in the way rugby union does.
"Until IFAB step up and change the concussion protocols, they are not looking after player welfare," Sutton said during half time of Benfica vs Ajax.
"...It is common sense. Why are IFAB not stepping up."
That's when Owen jumped in to say, "Because bumps and bangs on the head..."
At that point Sutton interjected to stop the former Liverpool star from putting his foot in it even further saying, "Hang on a minute, concussion is a bump and a bang. How do you know that is not a concussion?"
Sutton then called his a colleague a 'caveman' for comparing concussion to a leg injury, before the presenter had to take the coverage back to the like match.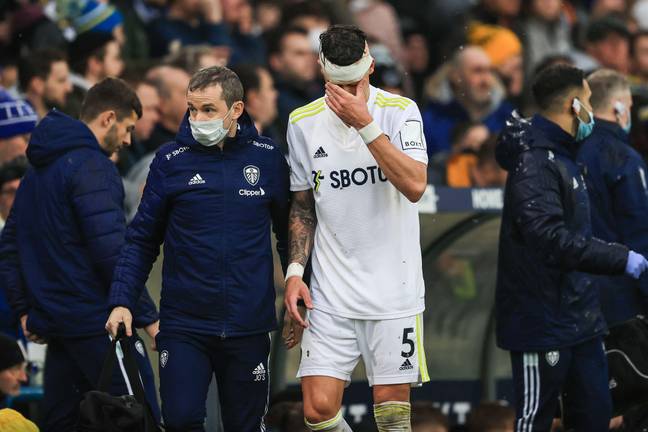 According to Daily Mail, who Sutton writes a column for, that has led to staff being called in for extra training around concussions and what not to say.
They have been warned not to refer to potential brain injuries as 'bumps', 'bangs', 'dings' or 'knocks,' as they don't want to trivialise the effects of brain injuries.
Rugby, cricket and boxing correspondents were also brought in for the workshops run by Concussion Legacy Foundation, where they were shown clips of concussion being reported well and badly.