Manly Sea Eagles player says his gay sister 'totally understood' his decision to not wear club's rainbow pride jersey
Manly star Josh Aloiai has revealed that his gay sister 'totally understood' his decision to not wear the club's controversial pride jersey.
The Sea Eagles player was one of seven teammates who refused to wear a uniform containing rainbow stripes in support of the LGBTQIA+ community.
The decision in Round 20 against the Sydney Roosters led to a downturn in the club's form as rumours persisted of a divide in the dressing room and ultimately led to coach Des Hasler's sacking.
However, Aloiai has now broken his silence, insisting his openly-gay sister completely understood the reasoning behind his stance.
He told 9News: "She knows that I love her to bits.
"Throughout all of this happening we did have a chat, and she totally understood where I was coming from.
"She rang me up and she was like, 'How are you going? Are you all right? It's so crazy... the way the media's blown this out of proportion'."
One media personality, in particular, drew the ire of the Manly prop - that being Brisbane Broncos legend Corey Parker.
Aloiai continued: "Corey Parker — he came and said, 'Don't pick and choose'. He hammered us in the media. 'You ran out with your gambling sponsor jerseys and your beer sponsor stadium'.
"I would love for him to show me in the Bible where it mentions gambling. It doesn't. Nor does it forbid alcohol within itself. But he's an idiot."
On whether he would reconsider his stance if the club were to decide to bring back the jersey for 2023, Aloiai was stout in his response.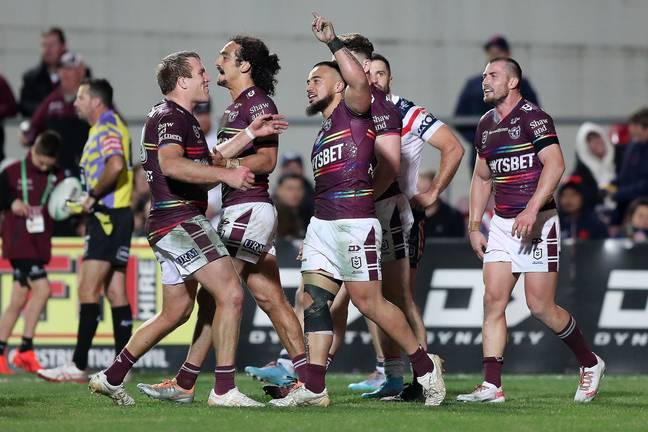 "The short answer there is no, I won't," he said.
"We didn't compromise this year, we won't compromise next year or the year after.
"Difference of opinion is not a difference of respect. "
He went on to draw comparisons between his own religious beliefs and those that are atheists.
He added: "You should never be put in (that) situation.
"Our atheist boys, for Easter round, we wanted to wear a Christian jersey and they weren't comfortable in doing that.
"It's all the same - I will support them."
The front-rower revealed that he and his family received death threats as a result of their stance.
He said: "We still have nothing but respect for people that choose to live that way of life. We don't personally want to live that way or endorse it, but at the same time, we quietly took our stance, we didn't say anything hateful or hurtful.
"Instead, we were the ones that were called everything under the sun. Death threats, my family got threats, I got threats about my son.
"I jumped off social media for a little while just to have a little detox."