Khabib gives advice to UFC fan who claims Jorge Masvidal slept with his girlfriend
Khabib Nurmagomedov shared some advice to a UFC fan who sensationally claims that Jorge Masvidal slept with his girlfriend.
Twitter user @Xdeep13 posted a video of the UFC legend speaking to a young man who says he wants to become a fighter after his girlfriend hooked up with the BMF champion.
"I wanna be like a fighter. Like just recently, because my girlfriend went out in Miami and she just told me she was having a girl's night. And then she ended up hooking up with Jorge Masvidal. Like he slept with her," the fan explains. "So, now, I want to fight that guy.
"So, what do you think is the most important aspect for me to start training? If I want to beat the sh*t out of him?"
Nurmagomedov replied: "How old are you?"
Nurmagomedov continued: "26? That's too old for this."
The fan added: "Like (Jorge) started hanging around with Trump and now he just thinks he can just sleep with other people's girlfriends? I don't think it is right."
Nurmagomedov: "I think, uhh, you have to buy dog."
The fan replied: "A dog? Because I would stand no chance with him?."
Nurmagomedov confirmed: "With dog, yes. We have chance."
Fan: "Yeah, because I have been waking up every day and just like hitting like five flying knees.
"I was thinking I could just catch him with one if I see him in a restaurant."
Nurmagomedov: "You can try. You can try. Maybe it work. But with dog it is going to be much better."
Masvidal, meanwhile, lost his most recent fight to bitter rival Colby Covington at UFC 272 in March.
It looked like 'Gamebred' would be facing Gilbert Burns next. Burns recently claimed he is ready to move on after not receiving any official offer.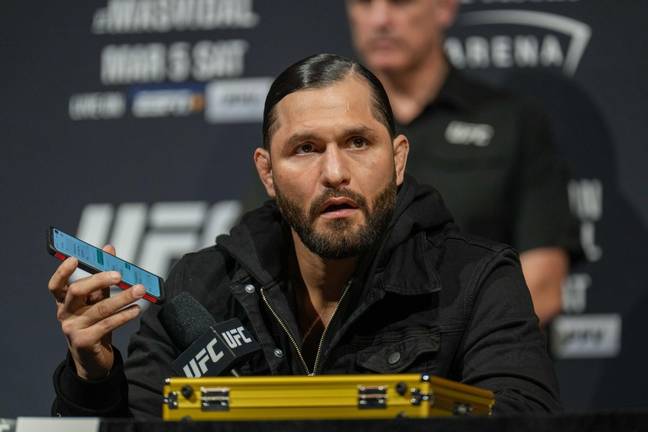 "I was [surprised] because he said my name multiple times on a couple occasions in different interviews," Burns said backstage at UFC 282 last weekend per MMA Fighting. "He said he was going to do one more fight this year, and I was like, OK, it's happening.
"But then, s**t, it took so long. The way I see it, he was kind of keeping me going. ... 'Oh, later, oh, next fight, next pay-per-view,' and I was waiting for the fight. I guess it's a very hard fight for him. He's coming from three losses to fight me. It's a good reward if he beats me – if – it's going to be a good reward, but it's a big risk, I think."