Jon Jones leaps to Joe Rogan's defence after Tyson Fury brutally calls him out
Jon Jones has leapt to Joe Rogan's defence after the UFC commentator was called out by Tyson Fury.
The boxing megastar surprised fans when he emerged from his social media hiatus and immediately started slamming Rogan for his recent comments about Tyson and Jones.
Speaking hypothetically, Rogan claimed that if Fury and Jones were locked in a room together, the 'Gypsy King' wouldn't stand "a f**king chance in hell" of winning.
"If Jon Jones and Tyson Fury are locked into a room, I'm pushing all of my chips on black," Rogan said on an episode of his podcast.
"Let me tell you something, Tyson Fury is an amazing boxer, he doesn't have a f**king chance in hell of making it out of that room. He has no chance of making it out of that room. Zero chance. He would have to catch Jon immediately with one punch, and I just don't see that happening, man."
This upset boxing's heavyweight champion, who hit back, saying: "I heard Joe Rogan say something about me, I've been off all the social medias and didn't reply to that little p***y, little f**king midget, bald-headed midget.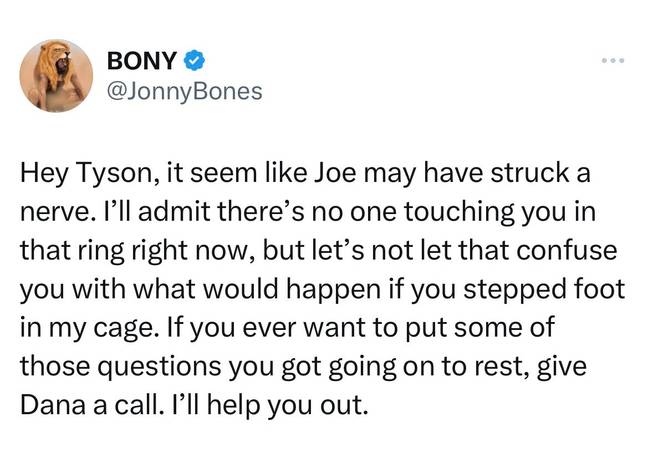 "I heard him say that Jon Jones could f**k me up if we were in a room together. I don't think so.
"Not a man born from a mother could f**k me up, in a room, on our own. Whatever happens in that room, I'd be walking out. Not a f**king problem."
Now UFC legend Jones has come out to bat for Rogan.
"Hey Tyson, it seem like Joe may have struck a nerve," the UFC heavyweight champ tweeted.
"I'll admit there's no one touching you in that ring right now, but let's not let that confuse you with what would happen if you stepped foot in my cage.
"If you ever want to put some of those questions you got going on to rest, give Dana a call. I'll help you out."
Fury wasn't done there though.
In a seperate video, he then called out a bunch of big-name combat sports athletes, including calls out Oleksandr Usyk and Anthony Joshua and Andy Ruiz.
Fury declared: "I am the baddest motherf**ker on the planet."
Interestingly, ex-UFC champ Francis Ngannou - who just signed a mega-money deal with the PFL, threw down the gauntlet.
He wrote: "I have been here the whole time @Tyson_Fury. Since none of these boxers want to fight, let's make it official."