Should he have seen red? Thiago Alcantara's 'two-footed' tackle on Mason Mount during yesterday's FA Cup final between Liverpool and Chelsea continues to cause serious debate amongst fans on social media.
Jurgen Klopp's so-called 'mentality monsters' lifted another trophy on Saturday after full-back Kostas Tsimikas scored the winning penalty to seal a 6-5 shoot-out victory against European champions Chelsea.
It was an entertaining affair full of big moments, including a controversial incident involving Liverpool midfielder Thiago.
In what was a cagey first-half affair at Wembley, the Spanish midfielder was in a 50/50 race with Mount when he lunged into a challenge with both feet.
The 31-year-old initially managed to win possession before passing it to the opposition but some fans questioned how Thiago managed to get away with such a 'dangerous' tackle.
Twitter user @LiamFlood17 posted two clips of the challenge – one in normal time and another in slow motion. He captioned the first video: "Thiago, two footed tackle, nothing doing, of course."
The slow-mo clip was then uploaded to social media with the caption: "Ridiculous".
Since it was posted at 6:30pm on Saturday afternoon, the video has picked up over 400,000 views on Twitter, with thousands more giving their opinion on the matter.
One fan said: "Unbelievable this wasn't a straight red. This is why players roll around when given a tickle," while another commented: "Absolute shocker. Off the ground and dangerous. Red card everyday of the week for any other team."
A third wrote: "This is proof If you don't roll around on the floor the referees won't do anything."
You cannot tackle like Thiago just did . That's 2 footed and left the ground. Wether he wins it or not that was dangerous . End of

— Matt Seeley (@Seeley789) May 14, 2022
Some, however, didn't see much wrong with the tackle on Mount. One fan said: "Don't get why people are claiming he should have been sent off, literally wins the ball and doesn't even touch his opponent, great tackle, world's gone soft."
A second wrote: "Surely as a football fan you don't want this to become a foul in the modern game. Understand frustrations though."
A third commented: "It's an aggressive challenge yes. But won the ball cleanly and fairly. And also, not a single player complained. Not one call to the referee. They were happy with the challenge, the fans in the stadium were , the referee was. Don't see why you're complaining."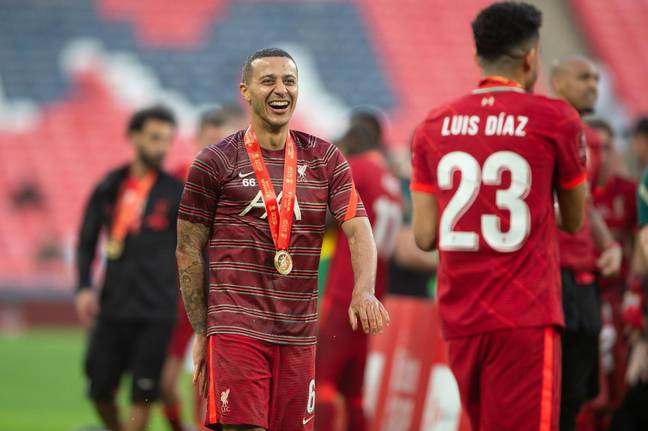 After the full-time whistle, Liverpool manager Jurgen Klopp joked he wished he had signed Thiago earlier following his move to Anfield in 2020.
"After the game I said to Thiago, 'If I had known what a player you are, I would have signed you four years earlier," he told reporters. "He said, 'You taught me running!'
"I take that, that's fine, that's fine. Obviously he could already play football pretty well but he learned running at Liverpool. It's fine."
Let us know in the comments.