Man City fans concerned as Pep Guardiola teases 'big idea' about line-ups to face Man United and Inter Milan
Pep Guardiola says he has a 'big idea' about his Manchester City line-ups to face Manchester United and Inter Milan in upcoming finals, concerning fans online.
Having bagged the Premier League title, Guardiola has the chance to complete a famous treble with his side set to face Man United in the FA Cup final and Inter Milan in the Champions League final.
They take on their cross-town rivals Man United at Wembley Stadium on June 3 then meet Inter in the Champions League final on June 10.
The Blues take on Brentford on Sunday in their final league game of the season before attention turns to two massive showdowns.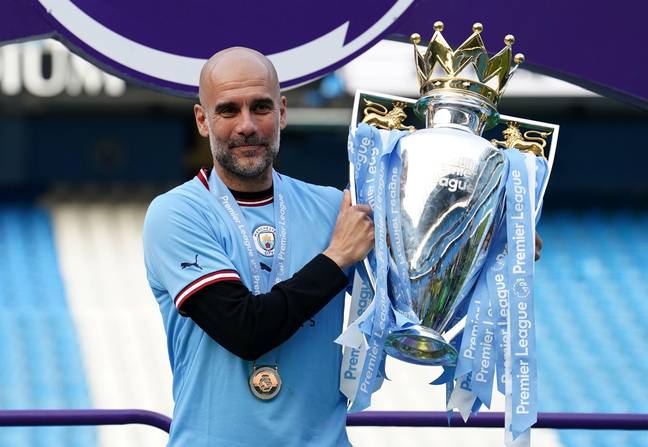 Ahead of Man City's two finals, the Spaniard has teased a 'big idea' about his line-ups, and it's got fans online talking.
"I have a plan for United and or Inter. You have to prepare differently," he said. "I have to see how many players I have, if they are fit. After seeing United yesterday, I am really impressed.
"I would be careful anyway but after yesterday and the games recently, we are going to prepare the best we can."
Guardiola, who dropped Rodri for the 2021 Champions League final against Chelsea, worried Man City supporters on social media as they joked he's set to play Erling Haaland at left-back and Ederson in midfield.
One Twitter user wrote: "Haaland at left-back it is!"
A second tweeted: "Is he overthinking it again."
A third added: "Finally getting ederson in midfield."
A fourth said: "No please not again. He will play KDB as false 9."
Another joked: "Scott Carson in goal, Mahrez at RB."
It's been suggested that the 52-year-old has been guilty of overthinking finals, having raised eyebrows with his starting XI against Chelsea in the Champions League final in a game they ended up losing.
Will Guardiola overthink his team selection for the two finals? Watch this space.