The trailer for David Beckham's four-part documentary series on Netflix has dropped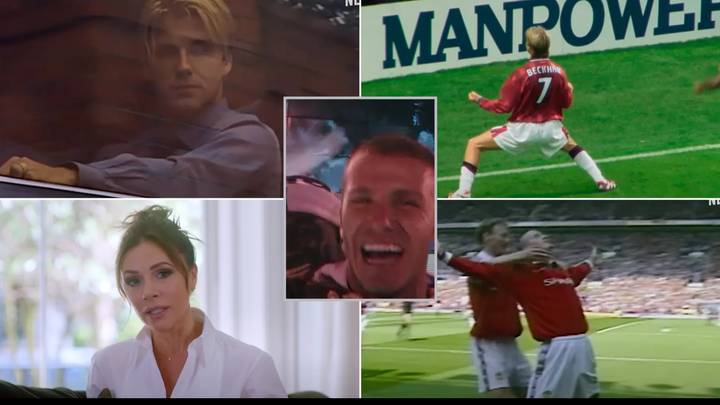 A four-part documentary series that will have unprecedented access to David Beckham's personal archives will drop on Netflix in October this year.
The much-anticipated docuseries will follow the former Manchester United, Real Madrid and LA Galaxy midfielder's meteoric rise from working-class beginnings to global football stardom.
It will feature never-before-seen personal archive footage from the last forty years, candid current-day moments, and interviews with the family, friends, and footballing figures who have been part of his journey.
"From his humble working-class beginnings in east London, his drive and determination to win, and the battle to find balance between ambition, love and family, David's story is one of immense ups and downs." Netflix write.
"The series takes you on that rollercoaster and builds a surprising, personal and definitive story of one of the most recognisable and scrutinised athletes of all time."
Here is the trailer for Beckham's documentary below. Will you be watching?
In the documentary, Beckham will open up about his "weird" cleaning ritual he must do every night before going to bed, despite wife Victoria "not appreciating" it.
In fact, according to Beckham, one of the more interesting habits he has is making sure that he cleans all the candles before bed and called it a "tiring" task.
"I clean it so well, I'm not sure it's actually appreciated so much by my wife, in all honesty," says Beckham from his kitchen.
"The fact that when everyone's in bed I then go around, clean the candles, turn the lights on to the right setting, make sure everywhere is tidy. I hate coming down in the morning and there's cups and plates and, you know, bowls."
Beckham admits that his candle-cleaning ritual is a bit "weird," with the former England captain doing it to every candle after it has been used.
"I clip the candle wax, I clean the glass, that's my pet hate, the smoke around the inside of a candle," he said, before adding: "I know, it's weird."
Back in 2006, Beckham admitted that he struggled with obsessive behaviour. Victoria later detailed the extent of Beckham's obsessive behaviour by revealing the level of coordination in their fridges at home.
"He's got that obsessive-compulsive thing where everything has to match," she said. "If you open our fridge, it's all coordinated down either side.
"We've got three fridges -- food in one, salad in another and drinks in the third. In the drinks one, everything is symmetrical.
"If there's three cans, he'll throw one away because it has to be an even number."
SPORTbible are on WhatsApp! We've launched a dedicated news channel to send you the latest news, features and plenty more directly on WhatsApp and all you need to do to sign up is click through to our one-way broadcast channel here for 'SPORTbible News' to appear in the 'Updates' tab on your WhatsApp.