Top 10 highest-paid Arsenal players revealed as Martin Odegaard signs new five-year deal
The top 10 highest-paid players at Arsenal have been revealed after Martin Odegaard signed a new deal.
On Friday morning, Arsenal confirmed that Odegaard has put pen to paper on a new long-term contract to extend his stay at the Emirates club.
Odegaard initially joined the Gunners on a loan deal from Real Madrid back in January 2021.
In August 2021, Odegaard joined Arsenal on a permanent deal for a reported fee of €35 million.
Since then, he has become one of Mikel Arteta's most important players and was also named club captain.
On the back of his new contract, it has was reported by The Athletic that the Norwegian is now the club's highest-paid player.
Currently, according to Spotrac, Kai Havertz is the highest-earning Arsenal player with a weekly wage of £280,000.
Odegaard is set to take home more than that after his new deal.
Here are the top 10 highest-earning Arsenal players according to Spotrac:
Martin Odegaard - £280,000+
Kai Havertz - £280,000
Gabriel Jesus - £265,000
Declan Rice - £240,000
Thomas Partey - £200,000
Bukayo Saka - £195,000
William Saliba - £190,000
Oleksandar Zinchenko - £150,000
Ben White - £120,000
Jorginho - £110,000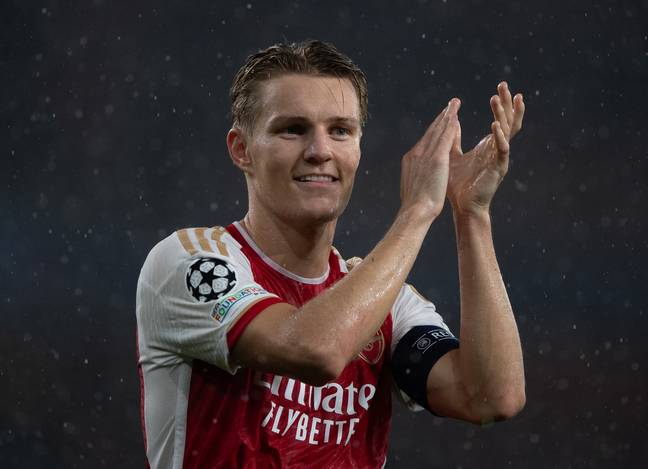 Speaking after signing his new contract, Odegaard told the club's official website: "Signing a new contract was a really easy decision for me for lots of reasons.
"Mainly what we are doing right now as a club is special, and I want to be a part of that. I'm really excited for what's to come here. I've found a place where I can be really settled and call my home."
He continued: "My story is a bit different maybe, as I moved around different clubs since I was 16. At Arsenal, since the first day, I've felt great and this is definitely my home now.
"I just want to say thanks to everyone working at the club and of course, our fantastic supporters. I will continue to give everything to bring success to this club in the years to come."
SPORTbible are on WhatsApp! We've launched a dedicated news channel to send you the latest news, features and plenty more directly on WhatsApp and all you need to do to sign up is click through to our one-way broadcast channel here for 'SPORTbible News' to appear in the 'Updates' tab on your WhatsApp.