Ahhh the eve of a football tournament. Is anything better? The Euros is going to be a bloody brilliant festival of football, there's three games of football on a day for god's sake. But who's going to win? What's going to happen? Who will score all the goals? Do we know? Do we f*ck so here's our predictions.
By now you've probably decided we don't know anything about football and are ready to slate us no matter that we say or you've not come to that conclusion yet and these dreadful choices are going to make you into a true non believer.
In fact you might want to remind us about these once the tournament's over and Spain are champions, Olivier Giroud is top goalscorer and Conor McGregor has tapped Floyd Mayweather out in the centre circle at Ireland's game against Sweden, more on that later...
First up we asked the boys in the office which team they were looking forward to watching most. Our resident Italian Joe Baiamonte caused no gasps in the office when he told us all that the Italians were the team he's looking forward to seeing although it's difficult to argue with his reasoning, "best looking bunch at the tournament, best kits, manager's a lunatic."
The 'Sexy One' Jack Kenmare, my words not his, and UFC expert Nas Jabbar are both laying down a marker for England. Nas reckons the young squad is exciting but Jack wonders if the manager can fit them all into a system: "Can Hodgson find a formation that will work? Who knows but it'll be exciting to find out."
Quiet Mark Whitehead and the TheFOODbible's very own Paddy Hill are both excited to see hosts France with Paddy whilst the man with no nickname, Ryan Sidle, is awaiting to the do or die nature of the Belgian side, "They either win the whole thing playing good football or they fail like a 90s Spain or England for my entire life!"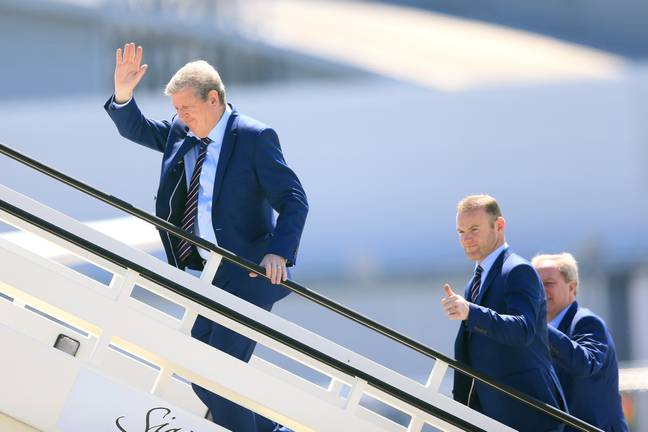 When asking what player he was looking forward to Mark found his voice but didn't understand the singularity of the question picking French trio Pogba, Martial and Griezmann as well as English pair Jamie Vardy and Dele Alli. Ryan chose Wayne Rooney and everyone else giggled at the stupidity of his answer, Nas picked Antoine Griezmann, Jack had Harry Kane, Paddy went for Jamie Vardy and thankfully the Italian stallion went a different direction and hit the Mario Gomez button backing the German to score 12 goals.
Ryan, the Sexy One and Nas all picked Croatia to be the dark horses sighting how quality a side they have, Nas said they'd "go far," Jack predicts a "shock semi-final" and Ryan went even further reckoning that the side with Luka Modric will "win their group above Spain before beating getting beat in the final" bold stuff.
Joe says "everyone's pretty good," but when pushed went for Austria explaining "decent defence with Fuchs, Dragovic and Wimmer and then they've got Alaba and Arnautovic having a laugh in midfield. Can't imagine they'll struggle to qualify from their group, either."
Paddy picks Wales led by Gareth Bale to be the dark horses proposing "Maybe it'll be another Greece 2004 like effort," completely forgetting that Greece's success was founded on a unit rather than one world class player, after all it was the pre Samaras days.
And Mark simply said Belgium...
When asked who would be the biggest failures in the tournament we were kind of hoping someone would say England but alas optimism is stupidly high as is always the case with fans from these shores. Jack and Nas were again on the same page picking Portugal due to being too dependant on Cristiano Ronaldo.
The food expert reckons Spain will struggle in a tough group of Croatia, Turkey and Czech Republic reckoning they could yet be knocked out at the group stages, Mark nodded in agreement.
Joe thinks the French could embarrass themselves at home and once again it's difficult to argue with his logic, "They'll either win it or end up slagging each other's mums off as they crash out at the group stages. I don't care how many of his teammates he blackmails about seeing them shagging on camera, Benzema should have gone. He's miles ahead of Giroud and Gignac."
Meanwhile Ryan was on the receiving end of some evil glares from Joe after naming Italy as the big team who will crash out wondering why for all his glory Andrea Pirlo isn't picked, who really cares if he's not that good anymore.
Before we'd even finished asking how England might do Joe snapped back asking, "You mean Marcus Rashford and 22 other blokes?" But was really distraught that another striker didn't make the squad, "Still think Andy Carroll should be going. If Gazza has taught us anything, it's that England teams always fare better when they have a madder than a bag of snakes, Geordie lunatic in the squad," he never answered the question.
Nas and Ryan agreed that it'll be semi-final heartache with Nas plumping for a loss to Spain and Ryan, who previously stated Croatia would finish above Spain in the group, thinking it'll be the Croats who beat us to get to the final.
Jack questioned the very dodgy defence and reckons that will lead to a quarter final exit, which Mark's head agrees with but his heart said semis. They argued for hours.
And of course there's always one overly optimistic moron, although considering two people said semis maybe there's three, with Paddy steadfast in his belief that Wazza will be lifting the trophy above his head on July 10th.
Top goalscorer predictions were pretty simple, Antoine Griezmann, Mario Mandzukic, Thomas Muller and Cristiano Ronaldo. Oh yes and 12 goals each for Marcus Rashford and Mario "Mario Gomez button" Gomez, no points for working out who said that.
Everyone said France were going to win. Joe mentioned them saying their team should win but thought it was too obvious an answer so put all bias aside and picked Italy to win every game 1-0. Whatever you all do don't back France, the predictions are going to be wrong!
Finally the boys were asked to name one random event that would take place, it could be literally anything from a red card in the final to Conor McGregor tapping Floyd Mayweather out in the centre of the pitch. Paddy followed his England win prediction with this beauty, "England score last minute in the final due to Jamie Vardy wonder volley. Roy Hodgson proceeds to sprint down the touchline and perform a Mourinhoesque knee slide in front of the whole world."
Ryan went for a repeat of the rivalry that started during the Champions League final, "Mark Clattenburg and Pepe to square up to each other in a game and the referee to come out on top leaving the defender in a heap on the floor." Nas also thinks Pepe will be the centre of attention saying, "Portugal camp to implode! Pepe to lose it in a game."
Mark thinks even Cristiano Ronaldo will end up admitting he isn't the biggest star at the tournament, "England to draw Portugal in the knockout stages and Cristiano Ronaldo to ask Jamie Vardy for his shirt."
"Chris Smalling will score with an overhead kick from a second half corner against Slovakia," Jack's prediction sounds like a Puskas Award winner if we ever did hear one.
And finally Joe decided they'll be a true battle of the egos, "Roy Keane will tell Ibrahimovic to "stick his backheels up his feckin' bollocks" during Ireland's game with Sweden and will promptly bite his nose clean off." Still, it's probably more likely than England winning the whole thing.
We hope you enjoy the Euros and maybe, just maybe one of our writers will have got something right. Don't go betting your wages on it though.
You can follow all those involved with the predictions on Twitter: