Dana White Hired Several Huge Security Guards For The UFC 272 Press Conference, He Wasn't Taking Any Chances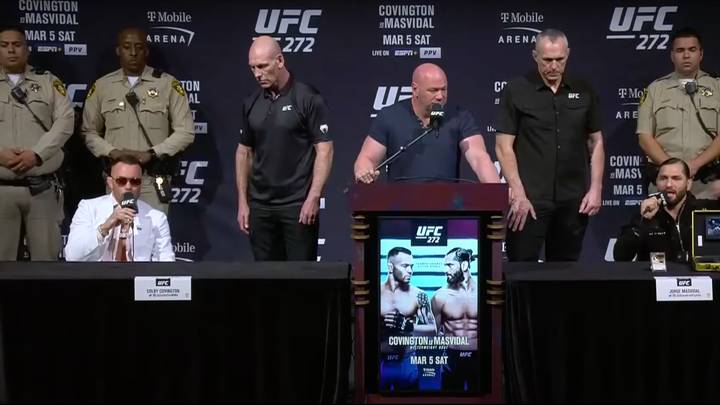 Dana White will probably tell you himself that he isn't the biggest fan of heated press conferences, in particular the fiery face-offs.
In the past, the UFC president has often been caught in the crossfire of some of baddest and scariest fighters on the planet as he desperately tries to stop them from laying a glove on each other.
And the press conference between Jorge Masvidal and Colby Covington was no different.
Knowing the history between the two rivals, White was taking absolutely zero chances and decided to recruit several massive security guards and police officers to ensure Masvidal and Covington were separated at all times.
From the very start to the end of the press conference, the security members were constantly hovering.
And at one point during the showdown, they were forced to spring into action when the two friends-turned-foes almost went nose-to-nose.
Growing frustrated by Covington's taunts, Masvidal rose to his feet and pretended to launch a water bottle in his opponent's direction.

But the towering security lads were on hand to ensure it didn't kick off, defusing the situation pretty quickly.
We haven't seen that many people on stage since the days of Conor McGregor and Nate Diaz's infamous rivalry.
In fact, it's actually six years to the very day that their UFC 196 press conference descended into chaos when the wild Irishman slapped Diaz's fist away during their staredown.
Both entourages then made their way onto the stage and it looked like we were about to see a repeat of Jon Jones and Daniel Cormier at that Las Vegas casino - you know the one.
Since then, though, White has made sure that whenever two trash-talking rival fighters face off with each other then there is always some security waiting in the wings to break them up.