Logan Paul re-signs with WWE, the promotion has huge plans for him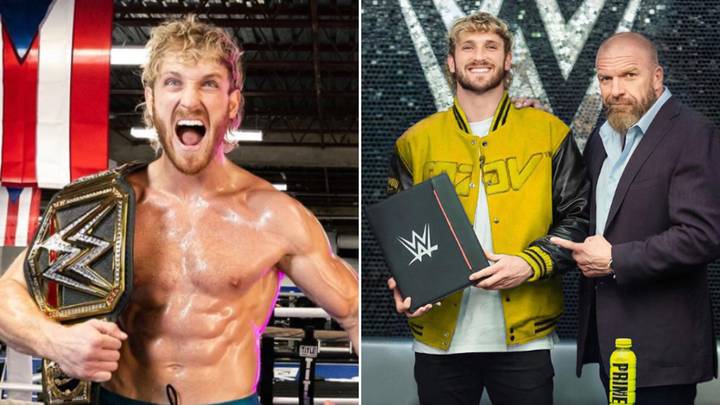 Logan Paul wrestling journey continues, re-signing with WWE on a multi-year deal.
The social media megastar has got his finger in just about every single pie possible.
Not only is he a popular YouTuber and podcaster, but Paul has cemented himself as a genuine businessman too thanks to the success of his Prime energy drink.
And while he has dabbled in the odd boxing match, most notably taking on Floyd Mayweather, it seems his true passion lies with wrestling.
In just 12 short months, he has signed with the WWE, stole the show at WrestleMania and even challenged for the undisputed WWE Universal Championship.
Now the 28-year-old has penned a new deal with the WWE, prolonging his stay in the promotion in a move which will put a smile on wrestling fans' faces.
"I feel incredibly blessed to have found something that I'm good at, at 28 years old," Paul told ESPN.
"And the fact that the organisation believes I'm good enough to continue hopefully building this WWE legacy is mind-blowing. And I'm incredibly grateful and incredibly blessed. And as long as I can keep putting on good shows, man, I'm gonna keep doing this sport."
Legendary wrestler Triple H, who is now the WWE's chief content officer, sung Paul's praises following his contract extension.
"Logan has just been a game-changer. I mean, he's probably the most natural guy I have ever seen. It's almost like he was made for this business," he said.
"Just being natural as far as talking and being on camera... he's so good at that. And then his athleticism is just next level. ... He's exactly the kind of guy that I look for as a WWE superstar. Whether he was an influencer or not, he'd be the kind of guy I'd look for as a superstar."
Some people are saying I photoshopped my new contract from the first time I signed with the WWE.

That is untrue.

As you can see, my jacket is a different color, Stephanie McMahon is no where to be found, and Prime is a different flavor pic.twitter.com/0A4VxopNNi

— Logan Paul (@LoganPaul) April 10, 2023
While fans love seeing Paul's high-flying acrobatic moves, they don't come around as often as we'd like.
He has certainly appeared on the biggest stages, but the social media megastar isn't a regular feature in either 'Monday Night Raw' or 'Friday Night Smackdown'.
Now, though, this new deal means he could be on our screens far more frequently – with major storylines reportedly in the works.
"It's hard to do that when you don't have a long contract with a piece of talent or you're talking about putting a guy over who may not be there next year," Paul said.
"The idea with this multiyear contract was to get really creative around the story that we're telling as my professional wrestling career unfolds. Being the hyper-ambitious person that I am, I'm going for a belt.
"I wouldn't have signed this contract if I didn't think that I was capable of getting a WWE belt. I think it'd be the coolest thing ever. I'd love to have it on my résumé, and I'd love to show every kid around the world who watches WWE that you can achieve anything."