Brock Lesnar Is Responsible For The Greatest 'Stone Cold' Steve Austin Impression In History, It's Gone Viral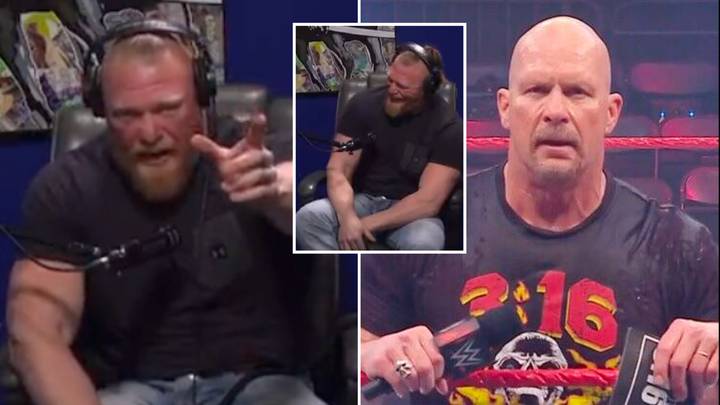 Brock Lesnar unleashed his impression of WWE legend 'Stone Cold' Steve Austin onto the world yesterday and it's absolutely incredible.
Lesnar is a huge admirer of the 'Texas Rattlesnake' and during a rare media appearance on the Pat McAfee Show, the former UFC star went to town while McAfee and co-host A. J. Hawk provided their own 'What?' chants.
"AUSTIN 3:16, CAN I GET A HELL YEAH?" he belted out at the top of his lungs.
"HOW ABOUT A COUPLE OF BEERS? HOW ABOUT YOU? AND YOU?"
All three men burst into laughter as they attempted to continue with their conversation.
Lesnar then slipped back into the Austin impression before laughing once again.
Since returning to WWE in August after a 14 month absence, Lesnar has shown more personality after playing it straight for most of his career.
The nine-time world champion cutting his own promos on RAW and SmackDown, in comparison to his previous runs when he's worked with Paul Heyman closely.
Fans have reacted to Lesnar's impression and they're desperate to have him face-to-face with Austin.
One commented: "Brock is this funny and the WWE hid it from us for almost 20 years. How dare they!!!!!"
Another said: "This is absolutely amazing and has made my day."
A third put: "The best Stone Cold impression I've ever heard."
While someone tweeted: "Brock is living his best life right now, we need to hear this on TV."
Lesnar also broke a table during the interview after being told not to. There's always going to be carnage when the 'Beast Incarnate' is around.
Austin walked out of the company in 2002 after being told he'd be losing to Lesnar on an episode of RAW.
He had no issues with losing to a rookie Lesnar, but believed it deserved a bigger spotlight with a proper storyline.
They did get physical following Lesnar's WrestleMania 20 match with Goldberg, with Austin delivering a Stone Cold Stunner.
"I got to wrestle [Hulk] Hogan, I got to wrestle The Rock, the Undertaker, Ric Flair, but I didn't get to wrestle Steve," Lesnar explained after returning to his normal voice per WrestleTalk.
"And I was thinking about this actually today because you [Pat McAfee] and I had dinner and talking about Steve and whatnot, and doing the 'whats'.
"I understand from a business aspect, at the time, Steve left and didn't wanna work with me.
"And it was probably the right decision for him at the time. I don't hold a grudge against it at all. Business is business. I had a lot of good mentors coming up in the business."
Lesnar won the 2022 Royal Rumble and will face Roman Reigns for the Universal Championship at WrestleMania.
He'll also be competing for the WWE Championship at this Saturday's Elimination Chamber show, in the aforementioned chamber.