When United lost 4-0 to Brighton in May, many fans didn't think they'd see such a loss to a mid-table side again. Fast forward three months, and the same has happened against Brentford.
Manchester United were absolutely torn apart in a first half fury by Brentford that saw the West London outfit put four goals past David de Gea in just 35 minutes.
To call this goalkeeping display embarrassing would be an undeserved compliment to the Spaniard, who couldn't have possibly done more wrong at the Brentford community stadium.
United's performance as a whole made for some shocking viewing, not one starter had an even semi respectable outing and it doesn't feel like it can get much worse for United.
To talk about backing a manager right after a 4-0 defeat to such a lesser side on paper feels crazy, as it is often a result that causes managers to lose their jobs.
But, readers should cast their mind back to a Premier League fixture at Goodison Park on the 15th January 2017, where Everton similarly shocked the world by beating Pep Guardiola's Manchester City by the same score.
Guardiola was at the time in his first season, and the result was completely unexpected. A month earlier, Guardiola's side had also shipped four away to Leicester, losing 4-2.
Throughout this season, many questioned whether Guardiola's fabled style of play would ever work in the English game, considered a different ballpark to other European leagues where he had found success.
Fast forward to 2022, and only one manager in Premier League history has been more dominant in England than the Spaniard.
So what happened in between this troublesome first season where questions were raised and the now seventh season where he feels untouchable to make this the case?
The answer is simple: he was backed by his club. A club structure was in place that saw his vision supported every step of the way, allowing him to focus on doing what he does best.
In 2015, Jürgen Klopp took over a Liverpool side unrecognisable from the great teams of the past. In his first few months, his side held a 3-0 thrashing from Watford.
Even two seasons later in 2017/18, they had fallen 5-0 to Guardiola's centurions (just a season after he was doubted) and 4-1 to Tottenham Hotspur.
Now, Klopp has won every trophy he possibly could have at Liverpool, many considering them the best football team in the world.
He too had a structure in place at the club to support him and his vision. He was given time and backing, and with how far the Merseyside outfit had fallen it was needed.
Coaches who'd seen plenty of success in foreign lands coming to big English clubs with a reputation for good football but doubts over whether their styles would survive in these waters. Sound familiar?
Erik ten Hag's vision is clear to see, even two games in. He wants an aggressive high press out of possession, and in it wants his side to play out from the back fearlessly and dominate the ball.
It is playing out from the back like this that gifted Brentford their second goal on Saturday. David de Gea, for rather incomprehensible reasons, passed the ball to Christian Eriksen with a man pressing him from behind.
Had Eriksen appropriately scanned, he may have been able to salvage the situation his goalkeeper had put him in. But he didn't, losing the ball in his own box as the Bees went 2-0 up in the 18th minute.
Is the manager's style the issue here? Or is it the players failing to execute it? Basic fundamental errors cost United for this goal.
Ten Hag had told players before the game to go more direct in build-up as they attracted the opposition's high press. Clearly, his players did not do so. Once again, who is at fault during this game?
David de Gea was at the very heart of this loss, being at least partly at fault for all four goals. It is the aforementioned second goal that stuck out the most though, even though the first quite literally slipped through his fingers.
Despite playing in a position where you can almost exclusively move the ball forwards with your passing, he manages to be a net negative in possession.
United's defence has players with good qualities when it comes to playing the ball. Varane is two-footed and moves it quickly, Maguire can carry from box-to-box and spray passes around with accuracy, Lindelöf's diagonals are excellent and Martínez is one of the best ball players around.
Dalot, Malacia and Shaw too all offer plenty of quality in possession. But against a high press they require support both from in front and behind. From behind, there is none as covered.
From in front, it also feels as though there is no support at times. It may seem boring that people talk of United's desperate need for midfielders yet every week the world sees why the need is so great.
Midfield has been a major ongoing issue at the club for most of the last decade, and right now it is probably the weakest it has ever been.
Fred, a No.8 by nature, has been lined up as a six for the most part where his risky nature, erratic touch and poor positional awareness often sees him exposed.
Christian Eriksen, his pivot partner on Saturday, has spent most of his career playing as a No.10, yet was often seen as United's deepest midfielder in the game.
Scott McTominay, despite many treating him as much younger, is 26-years-old, yet still found hiding from the ball frequently. When he did receive it, he did little positive with it.
These are Manchester United's senior options in their midfield pivot. Youngsters such as Zidane Iqbal have shown promise, but aren't ready to start week in week out yet.
Now imagine the same scenario United found themselves in for Brentford's second goal, but with Frenkie de Jong receiving the ball from David Raya in goal.
It is tough to imagine United conceding from this, with Raya offering far more in possession than De Gea both in his range of passing and selection of it.
Frenkie de Jong seldom needs to be covered, his ability in possession is matched by few midfielders in the world and his addition alone takes United up multiple levels in midfield.
From the front, United's press has been weak and cut through with ease at times. Cristiano Ronaldo has never been much of a presser, and is unlikely to start at 37 – he also wants to leave the club, with Manchester United now considering offers for the forward.
Anthony Martial was one of United's two best players in pre-season and off the ball looked his best ever, yet picked up an injury before the season started and missed the opening two games.
Jadon Sancho was alongside Martial as United's best in pre-season, and is probably United's best player outright.
However he has yet to get going this season, often it still feels like he can do more at times. Martial's return to the line-up to link with him in attack could well bring the best out of him again.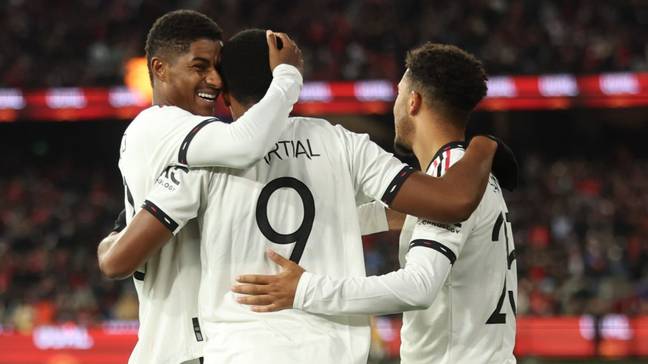 Marcus Rashford has continued to struggle early on, missing some huge chances against Brighton. Against Brentford, he looked bright in moments but ultimately couldn't make an impact on the game and needs to get a goal soon so that his confidence does not falter.
Bruno Fernandes has been on a consistent decline in the last year and seems more rash than ever, but is not getting the production now for this erratic-ness to be excused.
United's depth outside of this is non-existent. Their next best wide forward is Alejandro Garnacho, who only turned 18 recently.
Donny van de Beek is a completely different profile to Fernandes in the No.10, and Eriksen's duties currently lie deeper in midfield due to United's weaknesses there.
This is Erik ten Hag's squad. Is it completely awful? No. Does it contain the required profiles of the required quality for him to successfully implement his vision at United? Not even remotely close.
For this reason, he needs backing. There are issues enough with those higher up at the club, those are very well documented and as long as they exist they will get in the Dutchman's way.
But, as much as they can, the Old Trafford bosses need to back him. He was brought in to turn things around, and doing so is not an overnight process (as seen with Klopp at Liverpool).
Arsenal too, whilst not 'back', have found themselves in a similar re-build under Mikel Arteta, who too had a set plan and stuck to it no matter how tough it got for him at times.
Arsenal backed him through these times, believing in his vision, and now the Gunners have their strongest looking team in years.
Erik ten Hag is now in the same boat these managers found themselves in, and like those managers has his vision which he believes in and will stick to as he looks to rebuild this once great club.
His bosses need to do the same. Get rid of the players he deems not suitable, revamp recruitment to bring in the players that fit his vision, and generally fix the way the club is run.
Ten Hag is one of the world's best coaches and can be the man for United, but he needs time. He also needs the kind of support the other managers have had, and this is down to those above him.
Fix the way the club is run, and back him. If it doesn't bear its fruits, then Ten Hag is at fault. As of right now, he's the last man to blame.