Nick Kyrgios tells Logan Paul that he doesn't believe the pyramids were man-made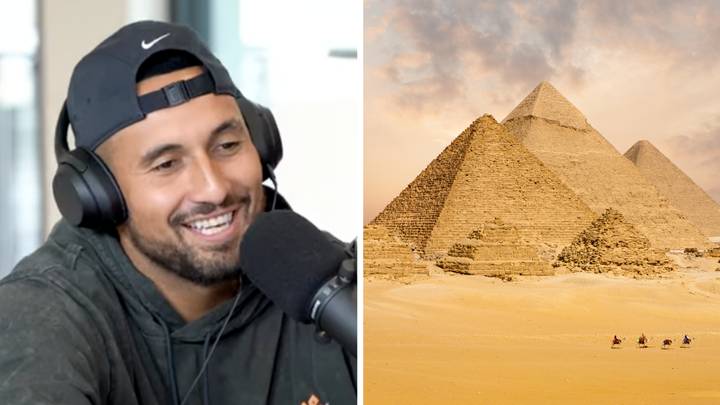 Nick Kyrgios' appearance on Logan Paul's podcast IMPAULSIVE produced quite a few interesting topics of conversation.
The Aussie delved into his personal life talking about his relationship with Costeen Hatzi as well as his recent court case.
With someone as outspoken as Kyrgios it was always bound to be a fascinating conversation - I mean, the tennis star even admitted he used to watch Logan Paul while 'half naked in his bed'.
As with most IMPAULSIVE podcasts, the conversations turned a bit chaotic when the topic of conspiracy theories came up.
With two stars not worried about shying away from controversy, Paul prompted Kyrgios to delve into some of the conspiracies he may be into.
Erring on the side of caution co-hosts Mike Majlak and George Janko warned the pair to not go too crazy with it as they didn't want to get demonetised.
But there was one particular conspiracy that Kyrgios did admit to.
He told the podcast hosts: "I don't think the pyramids are man-made."
And Logan certainly agreed - because of course he did.
Logan replied: "No way. How do they line up in perfect symmetry all around the Earth?"
The Aussie later added: "The doors are pretty big, and we as humans don't need doors as big as those ones."
"But other species…" replied Mike.
The hosts touched on other famed theories such as the moon landing being faked, and that the Earth is flat.
Although neither the hosts nor the guests wanted to confirm completely what side of the coin they were on when it came to those arguments.
Among other topics, Kyrgios also admitted that he was ready to walk away from the sport of tennis if he beat Djokovic at Wimbledon.
He said he was chasing that major Grand Slam so he could walk off into the sunset.
Kyrgios said: "That was my chance. That was really my chance. If I'd honestly won that, I think I would have retired at least for a year or two.
"I think I can win a grand slam. Wimbledon I was right there. I was two sets away. I won the first set and I thought this is it. And then I just didn't stay in the moment and he stayed super composed.
"I feel like I could do that. It's weird, but I feel like it's not even for me though. I feel like it's for everyone else. All the haters as well. I could finally just rest. I could just go home and sleep in my bed and not deal with the s***."