Nick Kyrgios admits he wants the US Open over quickly so he can return to Australia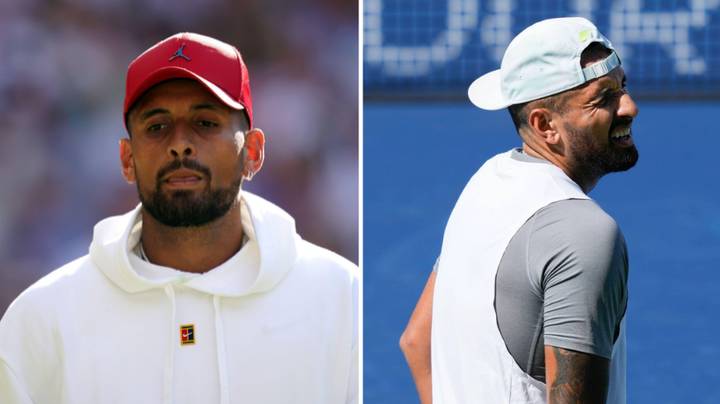 Featured Image Credit: PA Images / Alamy. Sipa US / Alamy.
As Nick Kyrgios takes on fellow Australian Thanasi Kokkinakis in the US Open the Wimbledon finalist has more important things on his mind.
The Aussie has opened up about his longing to return back to his home country with his family at the forefront of his mind, eager to meet his newborn nephew and see his sick parents.
Kyrgios has admitted that whether he wins or loses in the first-round matchup against Kokkinakis that it'll be a 'win' either way.
He told reporters: "Whether or not I win or lose, it's going to be the same for me. If I lose, I get to go home. If I win, it's more money and another great result.
"There's so much been going on at home. My brother's had a baby, my mum's sick. It's just hard to be away.
"It's definitely weighing on me every day longer that I'm on the road.
"I just want to go home but I know there's an important event here so I've just got to put it to the side."
Kyrgios has been away from his family for months now after competing at Wimbledon and over in the United States.
His mother's health has been declining during that time.
Nill Kyrgios spoke to the Sydney Morning Herald before the Wimbledon final, saying: "My kidneys are reaching very close to the end of their life."
Nill revealed that she was due to receive a kidney from her husband and hoped that they will be compatible.
Following the stunning victory over Daniil Medvedev at the Canadian Open, Kyrgios sent a message to his mother.
He wrote on the courtside camera lens: "Be strong Ma."
The Wimbledon runner-up is one of the favourites heading into the US Open with 16 wins from his past 19 singles matches.
However, Kyrgios simply wants the tournament to go as quick as possible.
He continued: "A big part of me just wants the US Open to be over so I can go home.
"It's brutal not being able to have the normality of your own bed or your own family for so long and then you have to deal with all this.
"The media, the fans, the training, the matches, the pressure, especially on my spectrum as well. It's not normal.
"So it's hard. It's really hard so I'm definitely feeling very exhausted. Just after Wimbledon, I didn't even have time to enjoy it."
Adding: "There's just no other type of tennis player really understands that (homesickness) apart from the Australians."