Channel 9 Slammed For Constantly Attempting To Interview Coaches During Origin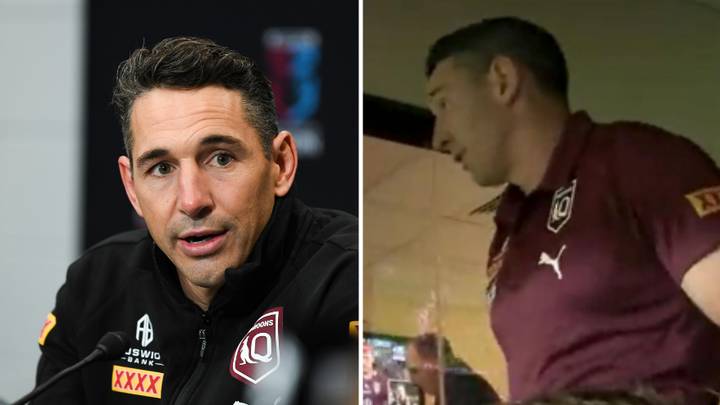 There hasn't been anything more irritating throughout the State of Origin series than Channel 9's attempts at mid-match interviews with coaches in the midst of tense moments.
One ill-timed attempt by the broadcaster to get some comments from Billy Slater has rightfully been slammed by many fans.
It was a rapid start to the opening of the decider at Suncorp Stadium that saw three stars knocked out inside three minutes.
Queensland coach Billy Slater had already lost Selwyn Cobbo and Lindsay Collins after they had suffered head injuries and the pressure was piling on for both coaches.
Memo to @Channel9

We, the fans, DO NOT need or want:

1.) Live crosses during play of clearly on edge, locked in coaches.

2.) Halftime exit interviews to equally edgy captains.

3.) Spidercam during LIVE play! #Enough #StateofOrigin

— Phil Barber (@Philby13) July 13, 2022
Later on, another tense moment broke out with players from both sides getting into a scuffle after Queensland had forced NSW behind their goal line and forced a drop-out.
An obviously tense moment for fans, players, and coaches alike, especially after three players had been ruled out.
However, Nine decided this would be the best opportunity to cross live to Slater in the coaching box in an attempt to get his thoughts.
As the brawl was playing out, the broadcaster decided fans wouldn't want to see the scuffle and instead view a coach talking about the scuffle.
Commentator Mat Thompson said: "Let's go to Billy Slater. Thanks for your time, Billy. Obviously some concern for you with two players gone for the remainder of the game early."
They received no response from Slater, who in all honesty looked in no mood to have a chit chat – and no wonder why.
The broadcaster then attempted to blame the lack of response on technical issues.
Thompson added: "OK, we've just got a little issue but we will get to Billy. I'm sure he's got enough on his plate, trying to juggle all the pieces there.
"That's as alarmed as Billy has looked all series."
Viewers at home were as frustrated by the attempt at an interview as Billy Slater seemed to be.
The Ladies Who League Twitter account said: "Leave Billy alone — his team is about to go into attack. It's not the time for a chat."
Broadcaster Chris Coleman tweeted: "I was delighted when that failed. Nine seem to have forgotten their coverage is about the game, not at the expense of it."
do not, I repeat, DO NOT try mid-game coaching interviews in a game where 47394 players are off with cat 1 concussions I BEG YOU channel 9

— Nat Sinclair (@nat_sinclair93) July 13, 2022
Whilst another fan said: "Do not, I repeat, DO NOT try mid-game coaching interviews in a game where 47,394 players are off with Cat 1 concussions, I BEG YOU Channel 9."
Certainly doesn't seem like Channel 9 has been reading the room for the entire Origin series.
Nothing meaningful is ever said in these mid-match or halftime interviews with players and coaches.
Time to scrap it, it doesn't add any value to the game.