Fans rage at Karl Malone's All-Star game appearance after finding out he got a 12-year-old pregnant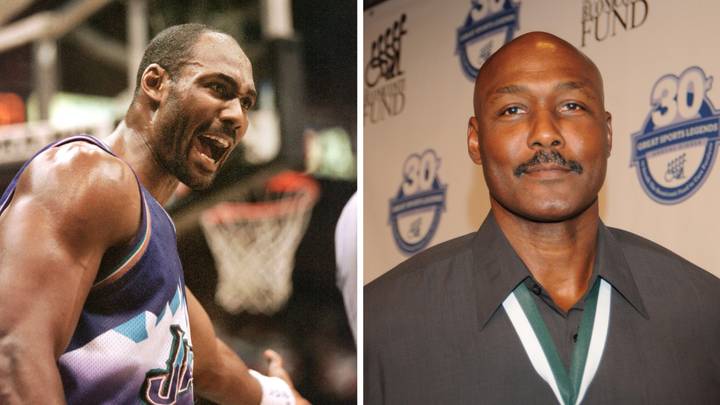 Fans were left enraged after on-court basketball legend Karl Malone was included in the NBA All-Star game festivities.
Team Giannis defeated Team LeBron in a game that was labelled 'the worst basketball game ever played' by Denver Nuggets coach Michael Malone.
And while that may have been enough to leave a sour taste in fans' mouths, it was nothing compared to another move by the NBA.
The league brought in a couple of controversial Jazz legends to celebrate the game with the game being in Utah.
John Stockton was in attendance, raising eyebrows due to his wild Covid-19 opinions.
However, the appearance of Karl Malone saw a heap of backlash from NBA fans and analysts alike.
Malone was invited to join LeBron James and Kareem Abdul-Jabbar in a photo to commemorate the top three point-scoers in the league's history.
That certain photo certainly led to many kicking off online.
Well, it stems from an incident off the court rather than on it - and even before Malone ever even played for the Utah Jazz.
In 1983, Malone, who was 20 years old at the time, impregnated 13-year-old, Gloria Bell.
The now 59-year-old never had any charges brought against him as Malone 'could not provide support for the child from jail', according to Bell's recount of the incident to the Salt Lake Tribune in 1998.
However, the NBA player ignored his responsibilities as a father, according to Tribue reporter Gordon Monson, who said Malone initially denied paternity.
His son, Demetress Bell actually grew up to become an offensive tackle in the NFL, playing for the Buffalo Bills, Philadelphia Eagles and Dallas Cowboys.
Malone has never publicly addressed the incident and refused to comment on it when pressed on his past mistakes during media availability.
"I don't care. That's my life, that's my personal life, and I'll deal with that like I've had to deal with everything. So, whatever."
It led to a whole lot of basketball fans calling out the NBA for shining a light on Malone.
The gasp from the audience was palpable when Bo mentioned Karl Malone impregnating a literal child. I'm surprised how many people don't know this about him.

pic.twitter.com/vf5XFffVa5

— priyadesai (@priyadesai) February 18, 2023
One fan tweeted: "Karl Malone being a known pedophile and everybody just being like whatever is still crazy to me after all this time."
Another wrote: "We should not be acknowledging - let alone honouring - Karl Malone. Disgusting."
A third added: "Karl Malone impregnated a literal child. He's one of the worst human beings to ever be involved in the NBA. Get this man tf off our screens."
we should not be acknowledging - let alone honoring - karl malone. disgusting

— Molly Morrison (@mollyhannahm) February 20, 2023
Karl Malone being a known pedophile and everybody just being like whatever is still crazy to me after all this time.

— ....... (@PrinceHAK33M) February 19, 2023
Karl Malone out there like we don't know

— Van Lathan Jr (@VanLathan) February 20, 2023
SPORTbible reached out to the NBA for comment.