Paddy 'The Baddy' Pimblett Sent A Warning About Piling On The Weight Between Fights
Sean O'Malley has sent his fellow UFC star Paddy 'The Baddy' Pimblett some words of warning after the Merseyside fighter shot from 155lbs to 200lbs.
Following his win over Kazula Vargas last month, Pimblett went on an 11,000 calorie food binge that propelled his weight by 45lbs.
O'Malley has now warned Pimblett that such excessive weight gain will 'catch up with him'.
Speaking on his BrO'Malley podcast, O'Malley said that despite 'talking s**t about each other on Twitch', he and Pimblett are 'boys now', but added: "With that being said, he cannot get that fat after each fight."
O'Malley explained: "It's [Pimblett's weight gain] going to catch up. It's going to f*****g catch up."
He added: "I can't even talk, I get faded after my fights. So scratch that. On the weekends I get f****d up. I don't get fat. My weight doesn't get bad. Just being judgmental, we're on a podcast."
Last month, Pimblett opened up about his post-win meal after tapping out Vargas during UFC London, and the 27-year-old certainly knows how to put it away.
In an interview last month he told Daily Star Sport: "I eat so many calories it's unbelievable. On Monday I actually gauged what I ate. I had 10,700 calories. And that's without me doing a food challenge. That's just be being a fat b*****d."
In his 24 March interview with the paper, Pimblett did add: "I had a little two weeks off last time, but I'm getting back in the gym in the morning, so I won't be too fat."
Getting stuck into pizza at his post-fight press conference, Pimblett quipped: "I'd rather be fat and happy than ripped.
"These people who are ripped all year round aren't happy. I'm not arsed, I don't care what they say. This six-pack is sound and I look great, but I'd rather be fat and happy."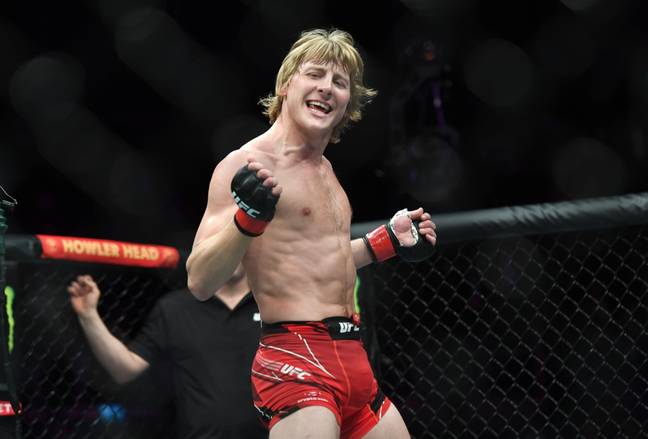 After tipping the scales at 200lbs just two weeks after choking out Vargas, Pimblett said in a video posted to his YouTube channel: "I am eating like a king. Resting that ACL lad getting fat. That belly is back."
He added: "This is what I ate yesterday, we went to Cafe Number Nine and I had [a] wrap in there. It comes with salt and pepper chicken, bacon [and] cheese and spicy mayo, and that comes with its own chips. We [also] got salt and pepper chicken loaded fries.
"I also ordered some halloumi fries. I finished their [gestures to someone behind him] pasta off. I got home and had a 240g pack of chocolate buttons and then I had two Whisper Golds [and] a can of coke. Then we went down Nando's. We had the hummus between us, I had ten BBQ wings, a garlic bread, a rice, a chips and half a chicken. I got home and had two donuts, two red velvet cookies and obviously I had drinks and that. It's 10,670 calories."
Meanwhile, when he's not chucking back calories, Pimblett's trying to set up fights with tech billionaires like Mark Zuckerberg.
Speaking after his victory over Vargas, Pimblett was asked who he'd like to fight next and replied: "Who do I want to fight? Mark Zuckerberg. Lad I'm going to punch your head in, I am sick of you."