UFC Champ Alexander Volkanovski Calls Out Featherweight Division In Savage Rant And Warns Lightweight Fighters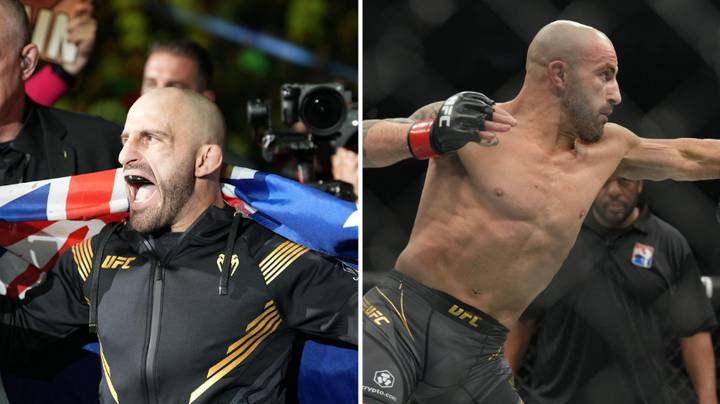 Fresh off a dominating UFC victory, Aussie fighter Alex Volkanovski has sent out a warning to both the featherweight and lightweight divisions.
Volkanovski put on a clinic against 'The Korean Zombie' Jung Chan-Sung over the weekend, defending his UFC featherweight title with a TKO victory in the third round.
Joe Rogan commented on the victory, saying: "It was in my opinion your greatest performance inside the octagon. Your movement, your speed — everything was on another level."
The Australian has now begged for a new challenger from the featherweight division or he'll take a step up to the lightweight division instead.
He said: "Everyone in my division, I've been saying it for a while now.... get your s**t together.
"Earn that No. 1 spot and you get it. If not, you are going to f***ing miss out. It's that simple."
Volk was scheduled to set up the third in a trilogy of fights against Max Holloway, however, the American pulled out with an injury.
Dana White told reporters following the fight that he wasn't sure what the Aussie would be doing next - with Volkanovski himself saying he could very well rise through the UFC weight divisions.
He said: "I'm in a position where I could do a couple of things. If this division isn't going to sort itself out and they're going to sit back and just f***ing sit back and wait for s**t, then fine I'll move up and fight at lightweight.
"I'm an easy champ to understand. Take that No.1 spot, you get that shot. If not, let's move up.
"I think we're in a good position to move up and see what happens in this lightweight title fight and maybe move up because again, I've shown I'm levels above in this division."
Volkanovski has riled through the featherweight division, defeating the likes of Brian Ortega, Chad Mendes, Jose Aldo, and Max Holloway.
Up in the UFC lightweight division, Charles Oliveira and Justin Gaethje are scheduled to face off for the lightweight championship in early May.
I don't care, there is no debate- Volkanovski is the best MMA fighter in the world without a shadow of a doubt

— Hayden Doumergumedov (@HDoumergue) April 10, 2022
Volkanovski says he'll be keeping a close eye on that matchup in case no one from the featherweight division answers his call-out.
He said: "I've always said I don't want to do it but if these guys are going to sit back and expect a title shot given to them while they're waiting and not taking that No.1 spot, f*** them, fine, I will fight other guys."
With most of his sparring partners in the lightweight and welterweight divisions, while also fighting in different weight classes in the past - Volk believes he can take on anyone.
He said: "Look what I'm doing to some of these guys, I've fought at all of these different weights, we talk about pound-for-pound, I mean it's there, I've shown you what I can do.
"I'm owning that crown so from now so Volk is coming for everyone. Lightweight division - watch out."