Lewis Hamilton refused to apologise to Fernando Alonso for their crash at the Belgian Grand Prix, despite taking responsibility, after hearing what Alonso said about him.
Alonso and Hamilton started third and fourth on the grid in Spa on Sunday afternoon and were soon into second and third after both had an excellent start to the race, with Checo Perez falling behind the pair.
However, the Mercedes driver's race was soon over later on the opening lap, as he attempted to overtake his former McLaren teammate.
The seven time world champion seemed to not give the Spanish driver enough space and they ended up clashing, sending Hamilton into the air.
He was soon falling back as going nowhere fast and had to pull onto the side of the track, with his car unable to continue in the race, leading to his first retirement of the season.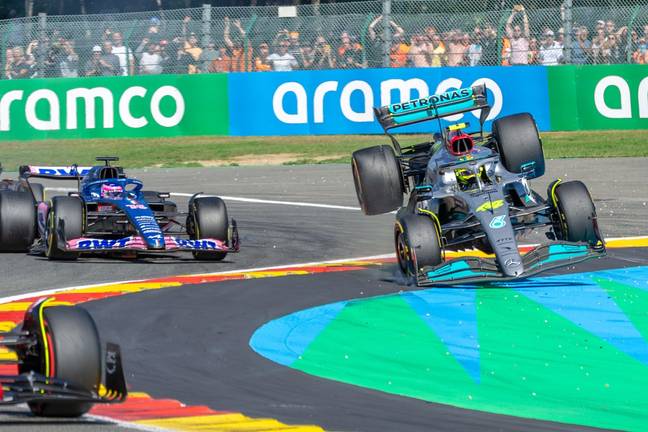 After the race, the 37-year-old was happy to admit that he was at fault for the crash, but on finding out what his rival had said refused to apologise for the incident.
"I don't really have a response to it," the Mercedes driver said, "I know that's how things feel in the heat the moment, but it's nice to know how he feels about me in a way, better that it's out in the open, how he feels.
"Like I said, it wasn't intentional and I take responsibility for it. That's what adults do.
"I mean, I would have [spoken about it with Alonso] until I heard what he said, so it's unfortunate.
"It's motor racing, I gave it everything. I tried to overtake on the outside into Turn Five, just didn't leave quite enough space and I paid the price for it. It wasn't intentional, it just happened."
Hamilton didn't receive any punishment for his involvement in the incident, which did send Alonso back a few places but he was able to continue to finish in fifth place, behind George Russell in the other Mercedes.
The former two time world champion was happy to hear his former teammate take responsibility, saying, "I was surprised and for sure, he now saw the incident and he takes responsibility, which is obviously very nice from him.
"t was a lap one incident, nothing really more to say there or the stewards. They didn't say anything because these things happen in that corner."
The 41-year-old also explained his harsh words at the time, adding, "I was frustrated in that moment for sure. Every time we start in the first or second row and we are fighting for top three, there is something going on.
"I was frustrated but luckily my car was very strong and there was nothing going on. Lewis had not much luck and had to retire the car."
Max Verstappen won the race, having started in 15th due to gird penalties.