Argentinian World Cup winner Papu Gomez has gone the extra mile to immortalise Emi Martinez's iconic extra-time final save.
The Aston Villa goalkeeper kept the scores even in the late stages of the World Cup final with an outstretched save to take the game into a penalty shootout.
French striker Randal Kolo Muani was through on goal with the chance to make a last-gasp winner before Martinez stretched out his left leg to keep the score at 3-3.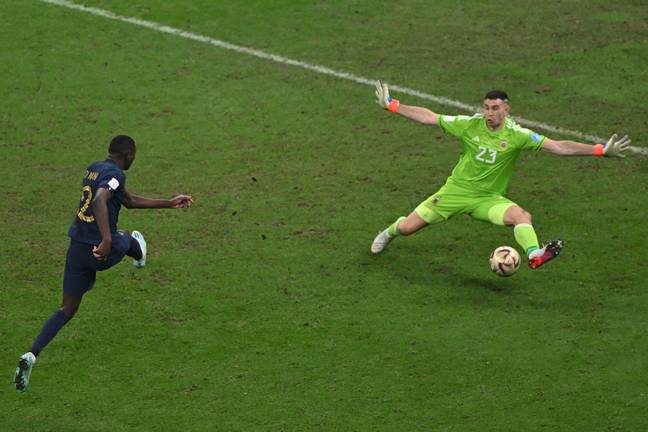 The man between the posts was ultimately the hero in the shootout as well after saving Kingsley Coman's spot-kick as Argentina went on to claim the World Cup.
Gomez, one of the Argentinian players in the squad, had unveiled a series of World Cup tattoos he received to commemorate that moment.
And one of those depicts that legendary save.
The tattoo sees a stencil outline of the goalkeeper as well as the exact minute and second it happened in.
Truly one of the most historic moments in World Cup history.
Martinez was appreciative of the gesture from the Sevilla winger.
He commented on the post: "I love you."
In addition to the game-saving moment, Gomez also got two other tattoos.
One of them was an incredibly detailed stencil of the World Cup trophy with three stars above to indicate the South American country's third triumph in the tournament.
The other tattoo was his number 17 blue and white striped Argentina jersey.
Gomez wasn't the only Argentina player to get some ink to commemorate the World Cup triumph.
Angel Di Maria had the World Cup trophy tattooed on his thigh with the Argentinian' Sun of May' featured behind it.
Meanwhile, Martinez himself decided to ink the exact spot Muani's effort hit during that jaw-dropping save.
Argentine tattoo artist Juan Pablo Skunca spent hours working on the piece before Martinez posted a picture of the finished ink on his Instagram page.
Featuring Argentina's updated 3-star log, the tattoo reads "Que la pasión te lleve a la gloria", which translates to "May passion lead you to glory."