Fans are adamant that Argentina lost their World Cup opener against Saudi Arabia on purpose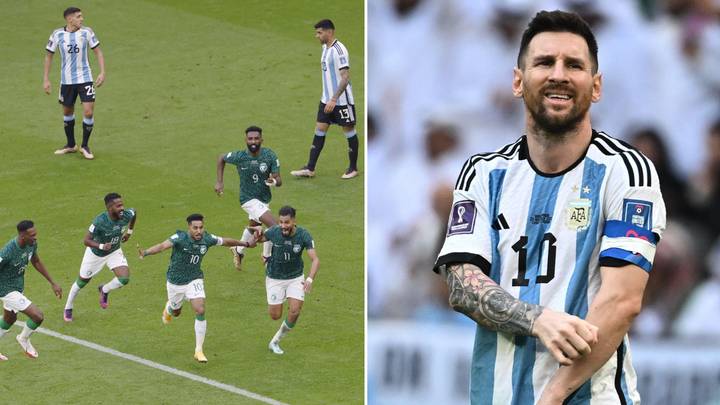 Fans have come up with the theory that Argentina lost their World Cup opener against Saudi Arabia on purpose.
Lionel Messi had put his side in front after just 10 minutes from the penalty spot. However, they were unable to build on their lead as Saudi Arabia put up a valiant fight.
In the second half, the game was spun on its head after two goals in four minutes from Saleh Al Shehri and Salem Al Dawsari were enough to seal a huge 2-1 win for Herve Renard's side.
The result sent shockwaves across the whole football world as Messi's Argentina are one of the hot favourites to lift the World Cup.
However, some fans were quick to share their thoughts on social media, claiming that Argentina fell to the defeat on purpose in order to avoid Brazil in the knockout stages.
If Argentina and Brazil win their groups, they are on course to face each other in the semi-finals.
Some fans explained their theory on social media.
One fan said: "Argentina lost on purpose so they can avoid Brazil until the end and from now on they won't be losing they'll go unbeaten all the way to the final and win the whole thing."
Another tweeted: "Am I the only one who thinks Argentina lost on purpose to get 2nd place in the group?"
A third fan added: "It's not all bad for Argentina in a way if they do end up finishing second in the group(could avoid Brazil later in the KO round). The issue is they can't afford to have any more slip-ups from here."
Argentina are losing on purpose to have an easier route to the finale

— Yanet Kassa 🇸🇪🇪🇹 (@yanetkassa1) November 22, 2022
Messi, who is playing in his last ever World Cup said after the match: "The truth? Dead. It's a very hard blow because we did not expect to start in this way. We expected to get the three points that would have given us calmness.
"Things happen for a reason. We have to prepare for what is coming, we have to win, and it depends on us."
Whilst Argentina manager Lionel Scaloni said: "We fully respect Saudi Arabia as we do with other teams, that's not the reason for our defeat.
"They are a good team with technical players, they are very well prepared physically. What comes ahead is to rise up, to face Mexico."
He added: "They will be tough, as everyone is at the World Cup. Now we need to win two games to move on. Of course this is difficult but regardless of the result today we would anyway try to win all the games."