With the Lionel Messi-Cristiano Ronaldo era drawing to a close, talk is growing over who will step up and fill the void left once the two modern greats have finally hung up their boots.
Paris Saint-Germain star Kylian Mbappe, now the highest-paid player in world football, has long been seen as a natural successor, while Erling Haaland's stock continues to rise after his remarkable start at Manchester City.
But there is also a young Brazilian who intends to be part of the conversation; the 'next Neymar' - Real Madrid winger Vinicius Jr.
With many of the all-time greats, there is a standout moment early on in their careers which elevates them from being viewed merely as a talented prospect, to a potential superstar of the sport.
For Mbappe, it came at the 2018 World Cup, with his four goals – including one in the final against Croatia – helping France to become world champions for only the second time.
Haaland's crowning moment is yet to arrive and is unlikely to come on the international stage with Norway. But a goal to clinch the Premier League title this season, or a winner to finally secure Manchester City their elusive first Champions League title would certainly do.
For Vinicius it arrived at the Stade de France this summer.
"I think it was certainly the most important goal of my career. The most beautiful, the most special," Vinicius told SPORTbible, after being announced as the latest brand ambassador for Pepsi MAX.
"It was a very important moment, winning the Champions League at 22 and scoring in the final. It will be remembered forever, even more so being at a club that wins so much and loves this competition.
"I'm very happy, but I don't want to stop there. There are a lot of Champions Leagues ahead and I want to win as many as possible."
It has been assumed that Vinicius would go on to achieve stardom ever since he left Brazilian side Flamengo to join Real Madrid as an 18-year-old in 2018. The Spanish club forked out €46m (£40m) to sign the winger, at the time the highest fee ever paid for a player under the age of 19.
After taking time to adapt to Spanish football with three formative years at the Bernabeu, Vinicius enjoyed his breakout season in the 2020-21 campaign – scoring 22 goals in 52 appearances for the club, including the winner in the Champions League final.
While it is yet to be confirmed, it is believed that the young Brazilian has penned a new deal with Real Madrid until 2026, which reportedly includes a £1bn release clause.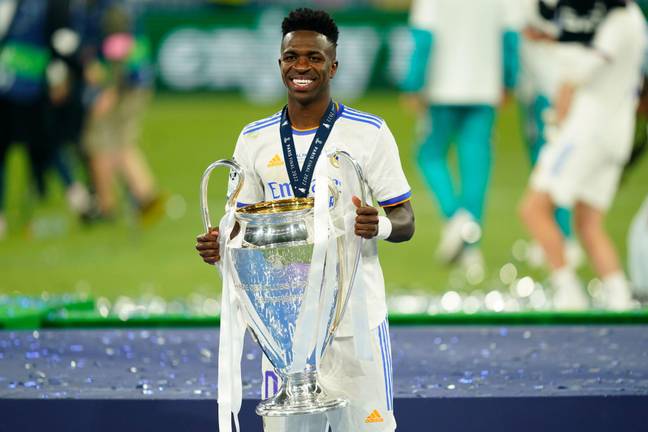 When asked if he has ambitions to play in another league - such as the Premier League - later on in his career, Vinicius played down the chances of him ever leaving the Bernabeu.
"It is true that I'm very happy here at Real Madrid and I think I will play here until the end of my career," he said.
"Of course, experiencing another league is important and I think the Premier League is a league that every player wants to play in. But my dream is and always was to play for Real Madrid."
Vinicius not only represents Real's future but also that of his national side Brazil, with the winger seen as a potential successor to his childhood idol, Neymar.
Brazil head into this winter's World Cup in Qatar as tournament favourites ahead of the likes of France, Argentina and England. But Vinicius believes the defending champions remain the team to beat.
"It's a little bit difficult, right? The best team is always the team that won the last World Cup," said Vinicius, when asked if Brazil are currently the strongest international side.
"I think France are the best at the moment. But at the World Cup that can change and there are a lot of teams with a good chance of winning. Argentina is doing very well, Brazil, England, Germany… they are all teams that will be strong in this World Cup – and may Brazil win!
"I think I will be playing; it is going to be a very special World Cup for me and for everyone with high hopes for Brazil. After so long, to have a strong team - it is important for us."
Should both Brazil and England win their respective groups, there is the mouth-watering possibility that they could meet in the World Cup final at the Lusail Iconic Stadium on December 18.
Vinicius is now accustomed to coming up against English opposition in Europe and has named his two toughest opponents, both of whom could miss the World Cup.
"I've played against a lot of them and the most difficult opponents were Chelsea's [Reece] James and [Kyle] Walker, of Manchester City," said Vinicius.
Vinicius, meanwhile, went on to reveal he has a close friendship with England international Jadon Sancho, formed after coming up against the Manchester United winger.
"I am very close to Sancho, who I played against in youth football," he explained.
"I always wish him the best. We always swap messages and I'm very happy when he scores or plays well."
Should Vinicius inspire Brazil to victory this winter and also help Real Madrid defend their La Liga and Champions League titles this season, he would almost certainly be in contention for next year's Ballon d'Or.
Vinicius hopes to emulate the French striker one day but believes he needs to improve if he is to be crowned the greatest player in world football.
"I'm very happy with Karim's performance last season and happy for having contributed a bit to him being the best in the world, having worked so hard playing at the biggest club in the world at 36," added Vinicius.
"It's always very difficult and he is very dedicated and deserves this award a lot.
"I'm always very relaxed when I play. I think about the best for my team, try to do my best and be the best version of myself whenever I'm on the pitch.
"If in the future I can be the best in the world… that depends on how my season goes. I have to keep working and improving to keep achieving my dreams."
Vinicius Jr has been unveiled as the latest brand ambassador for Pepsi MAX to coincide with the release of a new fashion collection, Pepsi X AoF, created by football culture brand Art of Football.