Villarreal Branded 'Pathetic' After Champions League Defeat To Liverpool
Villarreal have been brandished a 'disgrace to the Champions League' following their 2-0 loss to Liverpool in their semi final first leg.
On Wednesday night, however, Liverpool were too much for the Anfield visitors and Jurgen Klopp's side had 19 shots compared to the visitors one.
Unai Emery's side never really looked like threatening as their more illustrious opponents managed to do what neither Juve or Bayern had, and keep a clean sheet at home.
And the 2-0 loss, that required some luck for the opening goal and a potential VAR controversy for the second, led to talkSPORT pundit Jason Cundy to claim that the Spanish side's performance was a 'disgrace' to the competition and 'pathetic.'
"Cruise control. There's not a world that exists right now where Villarreal can trouble Liverpool at any price," the co-host said live on air.
"Liverpool were totally dominant. In some ways, it was too easy for them. I don't know what I've just watched – but Villarreal are a disgrace.
"That is a disgrace. UEFA must be watching that and thinking, 'We are in big trouble'.
😡 "Villarreal are a disgrace. That was a disgrace to the #UCL ."

😬 "You could've played a fan next to Van Dijk, they were that bad."

😳 "I've no idea how they've made it this far. They were pathetic!"

Jason Cundy 𝙎𝙇𝘼𝙈𝙎 Villarreal 🔥🔥 pic.twitter.com/ZdMVFUqd8b

— talkSPORT (@talkSPORT) April 27, 2022
"If that's what's getting to the semi-final and facing English teams… Liverpool did not get out of second gear. That Villarreal side there was like playing the last group game against a side that's not even good enough to drop into the Europa League.
"It was shocking. Liverpool are brilliant – but that was a disgrace to the Champions League. There are players who haven't even broken a sweat in a Champions League semi-final.
"There's only one team that can do anything to Liverpool right now and that's Man City, maybe Chelsea in a one-off. They are streets ahead. Villarreal were beaten before the first whistle went.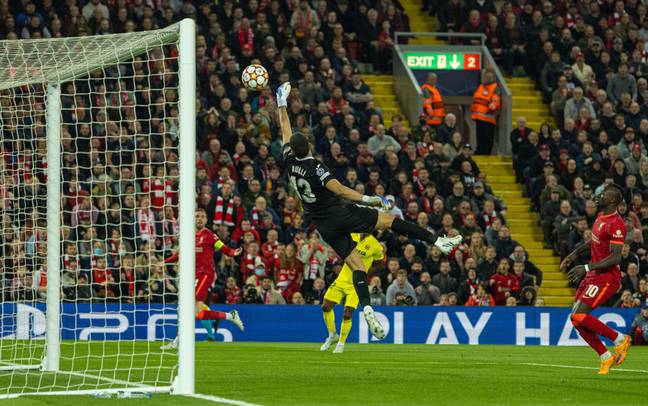 "West Ham would give them a better game. Everton gave them a better game. I've got no idea how Villarreal have made it this far.
"I can't believe what I've witnessed. I reckon you could've had a fan alongside Van Dijk tonight.
"You could've pulled a fan out of the stadium and said, 'Look – it's your lucky day, you're going to play for Liverpool in the semi-final of the Champions League, get your kit on'.
"That's how bad Villarreal were."
Villarreal's performance might not have been the best but the point will have been to keep things as tight as possible, as Atletico Madrid attempted when they visited Manchester City earlier in the season.
Emery would have hoped to get the Premier League side to El Madrigal for the second leg with the game still as close as they could, and at 2-0 down it's hardly tie over.
Plenty of teams who would have been expected to do better than Villarreal have left Anfield with worse results, and performances, than last night.
In the future, should the Yellow Submarine find themselves in the semi finals again, having already reached the stage in 2006 only to lose by one goal to Arsenal, they may not have to visit their opponent's home ground.