It's an image that will go down in the history of internet culture.
On the evening of May 8, 2002, in the bustling city of Rotterdam, a well-taken brace from set-piece specialist Pierre van Hooijdonk helped Feyenoord beat German champions Borussia Dortmund in a memorable UEFA Cup final.
To their credit, the resilient Bundesliga side hit back with goals from Marcio Amoroso and Jan Koller, but the prolific Jon Dahl Tomasson continued his hot streak in front of goal by scoring the winner inside the famous De Kuip.
It was Dutch football's first European triumph in seven years and a historic moment for many fans in attendance.
One of those present inside the 45,611 capacity stadium that day was Mikey Wilson.
At the age of five, he was sat in the stands as Jon Dahl Tomasson picked up the Man of the Match award on that warm Wednesday in Rotterdam, but rather than the result, and the celebrations that followed, he tends to remember that evening for very different reasons.
Mikey was perched on the shoulders of his father when Reuters photographer Jasper Juinen snapped him 'flipping the bird' ahead of kick-off.
In the coming years, as the rise of memes in popular culture played out, Wilson's face was posted across message boards, blogs and social media platforms like Myspace, Bebo and Facebook for well over a decade.
Since then, the true origins of this image has continued to raise questions. Why did he do it? And what is he doing now? Now, after many years of intrigue, it was time to find out the story behind this symbol of anger towards a rival team.
It's a tale that begins on April 4, 2002.
Over a month before beating Dortmund in their own backyard, thousands of Dutch supporters made the 500-mile journey down to Italy to watch the first leg of their semi-final clash against Inter Milan — a game they were expected to lose.
With the likes of Marco Materazzi, Clarence Seedorf and Ronaldo Nazario playing for Hector Cuper's side at the time, Mikey Wilson and his father, Ronald, were hopeful of a result in the San Siro but expectations were understandably low.
In the hours before kick-off, Ronald decided to take his son down to the square in Milan to get a feel for the atmosphere on match day. Soon, the 'bird flip' was born after an interesting conversation with some locals.
"Before the game started, we went to a square and there were a number of cafe's with lots of supporters," Mikey tells SPORTbible, 20 years on. "The fans of Milan told me to raise my middle finger and say something in Italian.
"I remember I got a bag of chips and some small change for it. I was only five years old, so of course I did!"
Feyenoord went on to upset the odds and beat Serie A giants Inter Milan after an own goal from Ivan Cordoba, while young Mikey was equipped with an Italian swear word and a rude gesture on his return to Rotterdam.
The Eredivisie side soon sealed a place in the UEFA Cup final with a tightly-contested 2-2 draw in the second leg. A clash against Dortmund was set in stone.
On the day of the final against Matthias Sammer's in-form Dortmund side, the atmosphere was building amongst both sets of supporters. Tensions were understandably high in Rotterdam.
And just moments before kick-off, a section of fans decided to interrupt a minute's silence dedicated to former Dutch politician Pim Fortuyn – a decision that five-year-old Mikey didn't like one bit.
In fact, the youngster decided to make his feelings known with a gesture he was taught in the weeks prior.
"The Dortmund supporters started singing through the minute silence," he recalls. "And at that moment, I raised my middle finger and also shouted the Italian word they taught me in Milan."
The picture was born, although his memory of the incident is hazy. "I don't remember much about it, to be honest," Wilson added. "The only thing that stayed with me is that I didn't want make-up on my face but it happened anyway."
At the time, the internet was still in its early stages of life. Around 500 million people worldwide had connected to the world wide web in 2002 so the picture didn't really circulate online until a few years later.
In fact, Mikey recalls being around 12 years old when he first realised the picture was a viral hit. "To this day, it isn't that special to me but everyone around me thinks it's a legendary photo," he laughs.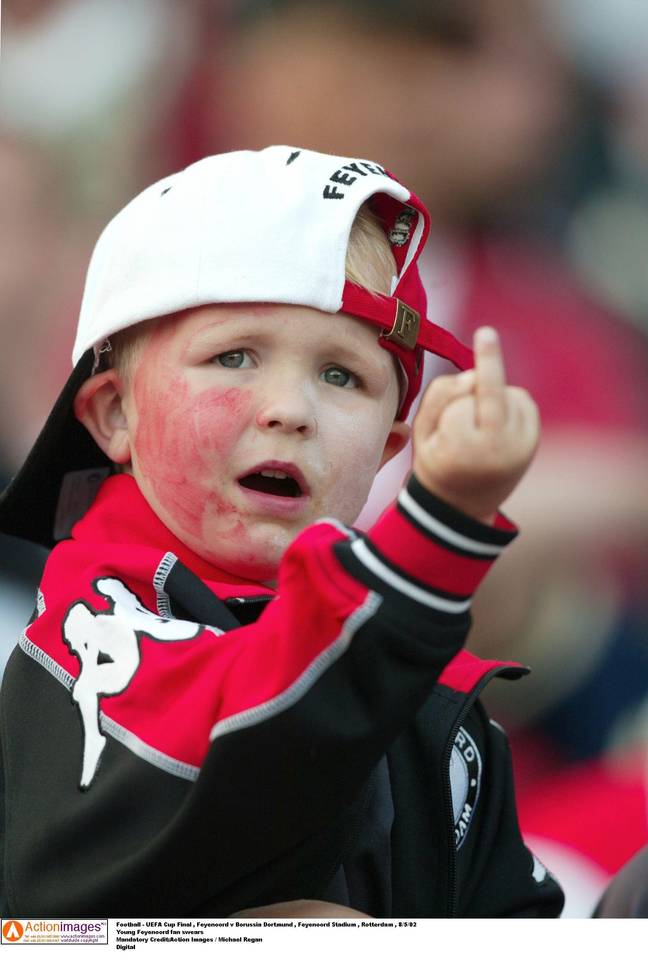 It's been 20 years since the final and Wilson, who currently works as a team leader in logistics at Leen Bakker, remains a die-hard fan of Eredivisie side Feyenoord and regularly attends their games, both home and away.
"The club is my life and I will always follow them," he says. "I will always have a season ticket."
In terms of fame from the viral picture, a relieved Mikey says he "luckily" doesn't get recognised on the streets but the 25-year-old's celebrity status in his local pub lives on to this day.
"In the bar where I always go, everyone knows me and people still think it's really cool," he says. "Every now and then I take a picture with someone who likes it, but that's mainly in the bar.
"My dad thinks it's a great photo," Mikey added. "And as you saw on Facebook recently, he wanted to remake it and we did that after a few beers."
Mikey and his family have had plenty of reasons to celebrate of late. After finishing the Eredivisie season in a very respectable third place, the Dutch side will come up against Jose Mourinho's Roma in the Europa Conference League final.
Arne Slot's side have beaten the likes of Slavia Prague, Partizan Belgrade and more recently Marseille in their journey to Wednesday's final at the Arena Kombëtare in Albania.
You could even say Feyenoord have overachieved in Europe this season; a statement one of the club's most famous faces agrees with, although he won't be attending the game because he is scheduled to be in work.
"I'm surprised about us reaching the final," Wilson admits. "I didn't expect it to happen but I'm certainly very proud."