Sol Campbell's Instagram activity at 2:30am had Premier League legends in tears of laughter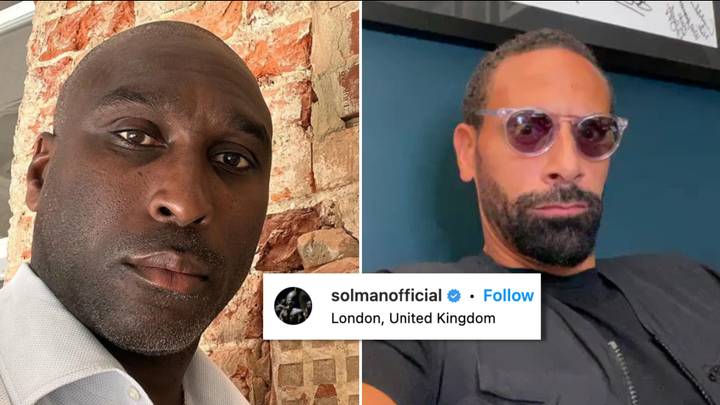 A host of Premier League legends sprinted to the comments section of Sol Campbell's Instagram post after he compared himself to Usain Bolt at 2:30am in the morning.
Campbell, a former England international with 500 league appearances to his name, brought his playing career to an end in 2012 after spells at Spurs, Arsenal, Portsmouth, Notts County and Newcastle.
He has since entered the world of management with Macclesfield Town and Southend United.
But it's his social media activity that has been grabbing all the headlines of late. Back in January, for example, Campbell listed the nine reasons why he deserves a knighthood after he was left out of the latest New Year's Honours list.
Now, the 48-year-old has decided to bring up some data from the 2007/08 and 2008/09 seasons.
As you can see in the picture below, Castrol Football Index calculated the fastest Premier League player from that era, with Theo Walcott topping the list after clocking a speed of 22.72mph.
To his credit, Campbell takes second place ahead of Nicolas Anelka, Fernando Torres and Ashley Cole.
As well as posting the screenshot, he wrote: "[Usain] Bolt hit a top speed of 24.04mph. You have to remember I did this speed when I was 34 YEARS OLD imagine the pace I could generate at the age of 23 my friends facts and figures."
He proceeded to ask for "respect" before tagging the likes of UEFA, EA Sports and the Premier League in his Instagram post.
Soon, a host of former Premier League players sprinted to the comments section to make their feelings known.
Former Manchester United defender Rio Ferdinand was one of the first to comment.
"Sol, I'm sorry to kill your vibe but Cesc being on this list makes this bit of data null & void," he wrote. "Cesc's game was brain, passing & angles, not speed - and Cesc would tell you that."
Campbell hit back at Ferdinand, who added that the former Arsenal centre-back was indeed quick, saying: "Cesc is 20-21 years old and at that age he was not bad. But the same surprise you have with him people had with me. The circle goes on."
Former United players Phil Neville and Andy Cole also got involved in the conversation. Neville wrote: "Still give us a penalty at Old Trafford though Sol," while Cole commented: "Easy Sol man."
Sylvain Distin, who enjoyed spells at Manchester City, Portsmouth and Everton during his career in England, added: "Cesc as fast as Anelka ?????? Really ?????", to which Campbell replied: "I don't do the data. Nicolas was 30 and Cesc was 20/21 years old. I think that's why?"
Just Sol Campbell taking to Instagram to compare himself to the fastest man in the history of the world at close to 3 in the morning.

The fact that Bolt actually ran 27.33mph can be ignored for now too. 😂 pic.twitter.com/7QCkHzjOQn

— HLTCO (@HLTCO) June 23, 2023
Campbell then addressed those players who commented on the post. "Nice to hear from all the guys on this," he wrote. "It's great to know you are all real with no computer people writing for you, thank god."